Download SamFw FRP Tool 2.7.1 Latest Version
SamFw FRP Tool 2.7.1 – Remove Samsung FRP One Click. SamFW FRP Tool comes with a no-cost, latest One-Click ADB Reset and Enable FRP application that allows users to allow ADB USB debugging Mode using Samsung *#0*# (Test Mode) and to bypass the FRP lock on Samsung Galaxy Android 9, 10 11 and 12 devices.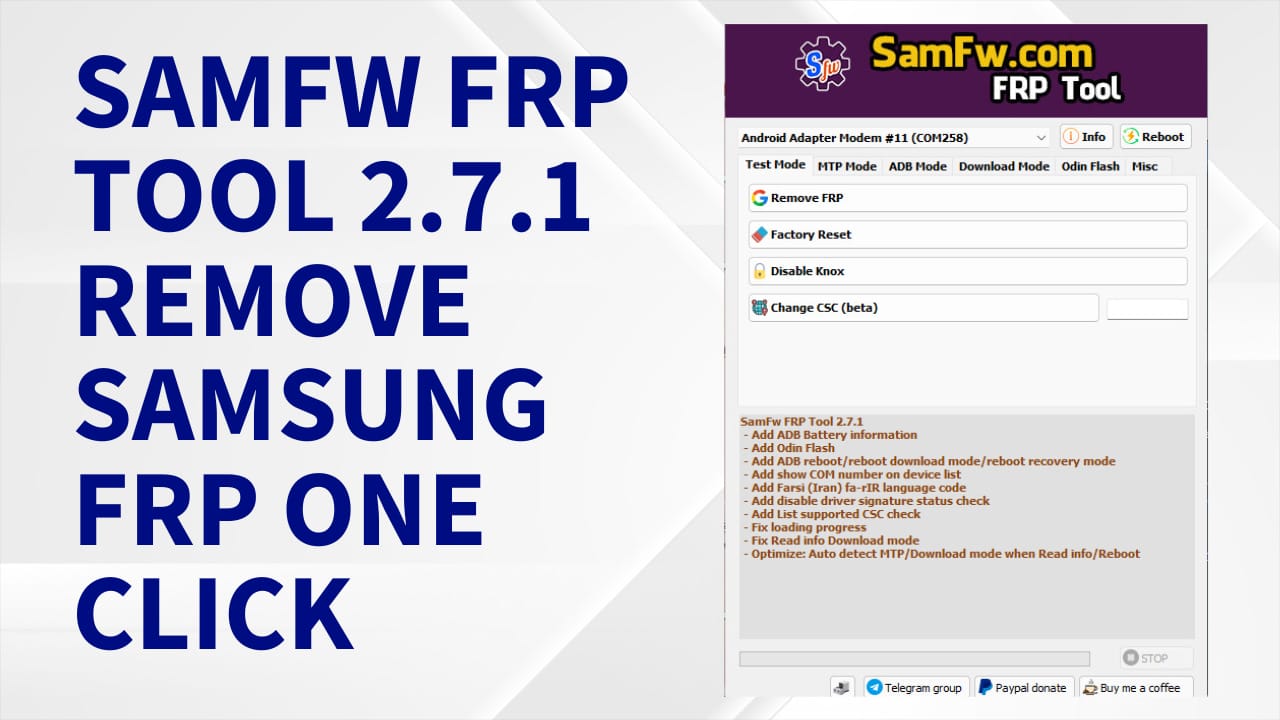 Like, Follow, Subscribe me on :
Pinterest: Follow
All Mobile Firmware:: Link
SamFw FRP Tool 2.7.1 – Remove Samsung FRP One Click
This brand new tool allows users to unblock FRP on Samsung within a matter of minutes. So if you're looking for an easy tool to reset the FRP locks from your Samsung phone, following these simple steps will allow you to download SamFW FRP tool v2.7.1 on your personal computer.
Safe Tool Allowed Users to:
Test Mode (*#0*#)

MTP Mode

ADB Mode

Download Mode

Odin Flash

Misc
SamFw FRP Tool 2.7.1
Features SamFw FRP Tool:
FRP =>>

*#0*#

Remove FRP

Factory Reset

Disable Knox

Change CSC (Beta)
MTP Mode
Open Browser >> Youtube || Google Map || Samsung

Browser (Galaxy Store)

Factory Reset
ADB Mode
ADB FRP (Old)

Disable OTA Update

ADB FRP (New)
Download Mode
Exit Download Mode

Soft brick fix

FRP Android 5/6 (Method 1)

FRP Android 5/6 (Method 2)
Odin Flash
BL, AP, CP, CSC, DATA

Reboot

Check MD5

Nand Erase

Flash

Clear
Misc
Check Driver signature enforcement status

Disable Driver signature enforcement

Enable Driver signature enforcement
SamFw FRP Tool
Changelog!!!
Update v2.0 25/05/2022
Remove open website step after removing FRP

Fix check ADB connection after enabling ADB

Add Read Info MTP

Add Disable Knox

Include Factory Reset (2 methods)

Add MTP Open Browser

ADB Add ADB Removing FRP (2 modes)

Add Reboot MTP
Update v2.1 27/05/2022
Correct wrong text after you remove FRP and Delete Knox

Open Device Manager

Fix UI bug
Update v2.2 27/05/2022
Improve FRP, Factory Reset, or Knox (Fix Success removed, but note that it is not working)
Update v2.3 28/05/2022
– Fix AT USB Connection

Important update Fix FRP Remove/Factory reset/Disable Knox for the latest model and older PC. Make sure to update your system as quickly as you can!

Update Factory Reset Full Automate
Update v2.4 3/6/2022
– Add disable drive signature

• Add ADB to disable OTA Update

– Add Open Browser multi options (Youtube/Google Map/Samsung Browser

– Optimize UI
Update v2.5 5/6/2022
– – Optimize and Allow ADB function

Improve Reboot Function

Improve Read information function

Include Stop button

– Add Exit Download mode or Add Softbrick Download mode fix

– Add ADB Set Language

– Fix Disable Drive signature enforcement
Update v2.6 7/6/2022
+ Reboot mode to Binary Mode (Download mode 0)

– Add read information to the Download mode

– Add FRP Remove old Android 5/6

– the ability to remove Bloatware Samsung

– Optimize Reset Download mode

– Optimize Factory Reset

– Fix load libraries problem
SamFw FRP Tool 2.7.1 – Remove Samsung FRP One Click
Update v2.7 14/6/2022
ADB Battery information – ADB Information about the battery

– Add Odin Flash

– Add ADB reboot/reboot download mode/reboot recovery mode

– Show the number of COM on the device list

+ Add Farsi (Iran) fa-rIR language code

– Add disable driver signature status check

– Add List supported CSC check

– Correct the loading process

fix Read information Download mode

– Optimize to detect the MTP/Download mode when reading information/rebooting
Update v2.7.1 14/6/2022
How To Use?
The first step is to first download the file by clicking the following link

Then, you should unzip all the files on 

C: drive

. 

It's vitally crucial

Then you need to open the folder that you need to extract all the files

Run the " 

SamFw FRP Tool

"

Before using the tool, you must install it and download the Samsung driver on your computer.

The tool comes with the functions described below.

FRP =>> Disable FRP

Make the change to the CSC>>

 Connect your Samsung FRP-enabled phone to a WiFi network before connecting.

SamFW FRP Tool V2.7.1 Download Free Android 9, 10, 11, 12 FRP ADB Enable One-Click Tool Enable Test Mode

Samsung

Return to the welcome screen and then tap Emergency Call Press 

#0#

.

Connect to Samsung Android phones to your Google 11, and 12 phones to your Samsung Android 10, 9, 11, and 12

Connect the PC to it and connect the computer, and Test Mode will display.

SamFW FRP Tool V2.7.1 Download Free Android 9, 10, 11, 12 FRP ADB Enable One-Click Tool Select COM PORT

Launch the FRP Tool.

Choose the COM Port

SamFW FRP Tool V2.7.1 Download Free Android 9, 10, 11, 12 FRP ADB Enable One-Click Tool Remove FRP

Removing FRP in the FRP Section by pressing the button to remove FRP.

Let the FRP lock release by pressing Allow to allow on your phone.

Choose Samsung Setup Wizard.

That's all.
File Download:
README:
Compatible: The tool is compatible with Windows XP, Vista, Windows 7, Windows 8, and Windows 8.1, along with Windows 10 (32-bit and 64-bit).
Create a backup: If you are looking to test the tool above, you should back up the personal data on Your Android Smartphone or Tablet. Because flashing any recovery or Firmware could damage the device.
Credits: The tool SamFw FRP was developed as a service by the creator. Therefore, all credit goes to the creator for sharing the device at no cost.



SamFw FRP 2.8 Unblock Samsung FRP In One Click :: Download




SamFw FRP Tool 2.7.1 – Remove Samsung FRP One Click
Download Link:: Mediafire – Usersdrive –Mega – Google Drive – 4shared – OneDrive – TeraBox


SamFw FRP Tool 2.6 – Remove Samsung FRP One Click :: Download




SamFw FRP Tool 2.5 – Remove Samsung FRP One Click :: Download




SamFw FRP Tool 2.4 – Remove Samsung FRP One Click :: Download




SamFw FRP Tool 2.3 Free Remove Samsung FRP One Click :: Download




SamFw FRP Tool 2.0 Free Remove Samsung FRP One Click :: Download




SamFw FRP Tool Free Remove Samsung FRP One Click :: Download




SamFw FRP Tool 3.0 Free Remove Samsung FRP One Click :: Download