CM2 FAST CHECK V039-rc9 Xiaomi Update Free Download
Fast Check is a small program that is designed for Windows computers. It lets users transmit this GUI command to an Android device running android 5-12. The tool is used to scan details about the device, flasher TWRP, Fastboot Flasher ADB, and Fastboot several other features I've included below. The tool works on all Windows computers. If you have there are any issues that you encounter using the tool, please leave a post a comment below.
CM2 FAST CHECK V039-rc9 Xiaomi Update Free Download
Features CM2 FAST CHECK:
ADB
– Device ID

– Device Info

– Unlock Screen (Root)

– FRP Reset ADB

– LG Hidden Menu

• Xiaomi the freeze Mi app

– Samsung OTA Disabler

Wireless test assistants off
Xiaomi Mode of Sideload:
– Device Info

– Xiaomi Flash om recovery

– Xiaomi wipes in Mi suite

Reboot devise to recovery ADB fastboot, download mode normal to edl shutdown sleep, power reboot

Diag mode is not a root

– Diag mode ROOT

– MTP mode ROOT

– Reset USB

– Kill ADB
FASTBOOT
– Device ID

– Reboot

– Getvar ALL

– Product

– Xiaomi AntiRollBack

– Bootloader unlock (OLD)

– Bootloader Lock

– A few Honor details

– Some Huawei info
Reboot to Normal Recovery Fastboot, Bootloader EDL (Bootloader Unlock) EDL 2nd Method Emergency, Continue Reboot FTM, RebootRUU, Reboot Download.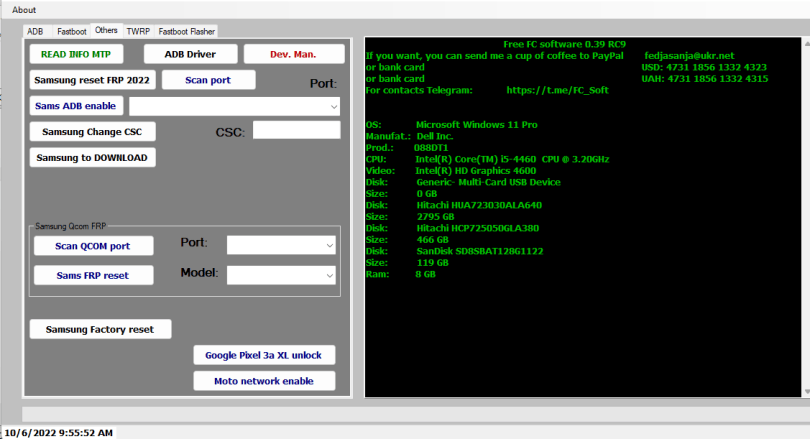 – FRP Unlock Huawei

– FRP Reset Method 1

– FRP Reset Method 2

– Wipe EFS (modemst/fsg)

– Erase nvram/nvdata

– Flash Recovery

– Flash vbmeta

— Fastboot Manual command select and transmit
Others
– ADB Driver

– Sams ADB enables Test

– Dev manager

– Scan Port

– Samsung ADB Enable

– Samsung FRP Reset 2022

— Samsung to download

– Samsung Change CSC
Samsung Qualcomm FRP:
– Samsung Qcom port

– Samsung FRP Reset

– Samsung FRP Reset

– LG Factory Reset

– Huawei Factory Reset

– Google Pixel 3a XL Unlock

– Moto network enable

TWRP
Information about the device
Changelog!!!
Xiaomi Sideload Mode:

Xiaomi Flash in Recovery

Xiaomi Wipe in Mi Suite

Xiaomi Bootloader Unlock

Xiaomi FRP Reset
How To Use?
The first step is to get the ZIP file using the link below.

After that, you need to unzip all the files on 

C: drive

 

this is extremely crucial

After that, you need to open the folder that you will need to extract all the files

Run the " 

FAST Check.exe

"

Then, you'll be able to install all drivers if you already have them installed. If not, skip this step.

Connect the phone to the internet and try to accomplish any function

Enjoy !!!
CM2 FAST CHECK V039-rc6 :: Download 
CM2 FAST CHECK V039-rc8
Download Link:: Mediafire – Usersdrive –Mega – Google Drive – 4shared – OneDrive – Tera Box
CM2 FAST CHECK V039-rc9
Download Link:: Mediafire – Usersdrive -Mega – Google Drive – 4shared – OneDrive – Tera Box