Unlock Tool Crack | Unlock Tool Crack Free Download. full cracked setup with loader windows computer download ad run on all versions of windows pc. Gautam Kumar cracked the tool and uploaded it to me. The device is available for free to all users.
Unlock Tool Crack Unlock Tool Crack Free Download
The Unlock Tool can remove screen lock and FRP from Android phones. It can unlock all types of phones, from Android 5.0 to Android 12. You need to download the tool and then install it on your computer. It is straightforward and takes only minutes. After you have installed UnlockTool, follow the instructions on the screen.
The Unlock tool is a windows program that allows you to unlock any Android device locked by FRP (Factory Reset Protection). You will need to connect your phone to your computer in ADB mode to install it. Click on the main menu and select Reset FRP/Unlock. To bypass the verification lock, you'll be asked to log into your Google account.
Follow the instructions once you have downloaded and installed the software. You should be able to remove any Android device lock, and it should be able to unlock your phone quickly and easily. This tool is simple to use. Follow the instructions, and . you will open your device. . You will not lose the data. This is a safe and secure way to get rid of the screen lock from your Android phone. Install the Unlock Tool to unlock your Android phone.
Unlock Tool Crack | Unlock Tool Crack Free Download
. You can use the Unlocker app to unlock your Xiaomi Mi device for free. Cedric Collomb developed this tool, and it has a simple interface that lets you quickly access the menu by right-clicking your mouse.
Features UnlockTool
Huawei Qualcomm Erase ID Account 1-Click

Huawei Enjoy 8

Huawei Enjoy 8e

Huawei Honor 8X Max

Huawei Y7 Pro [2018]

Huawei Y7 Pro [2019]

Huawei Y Max

Huawei Honor 7C

Huawei Y7

Huawei Honor 6A

Huawei Y6 2022

Huawei Honor 8C

Huawei Honor 7A

Huawei Enjoy 6S
Oppo | Realme
Network

Oppo A1k

Oppo A5s

Oppo A8

Oppo A9

Oppo A12 | A11K

Oppo A15

Oppo A15S

Oppo A31

Oppo A54

Oppo F1s

Oppo F7

Oppo F9

Oppo R15

Oppo Reno6 5G

Realme C20

Realme Q2 5G

Realme Q3 Pro 5G

frp

Oppo Reno7 SE 5G PFCM00

Oppo Reno 7 Pro 5G PFDM00

Oppo A16K CPH2349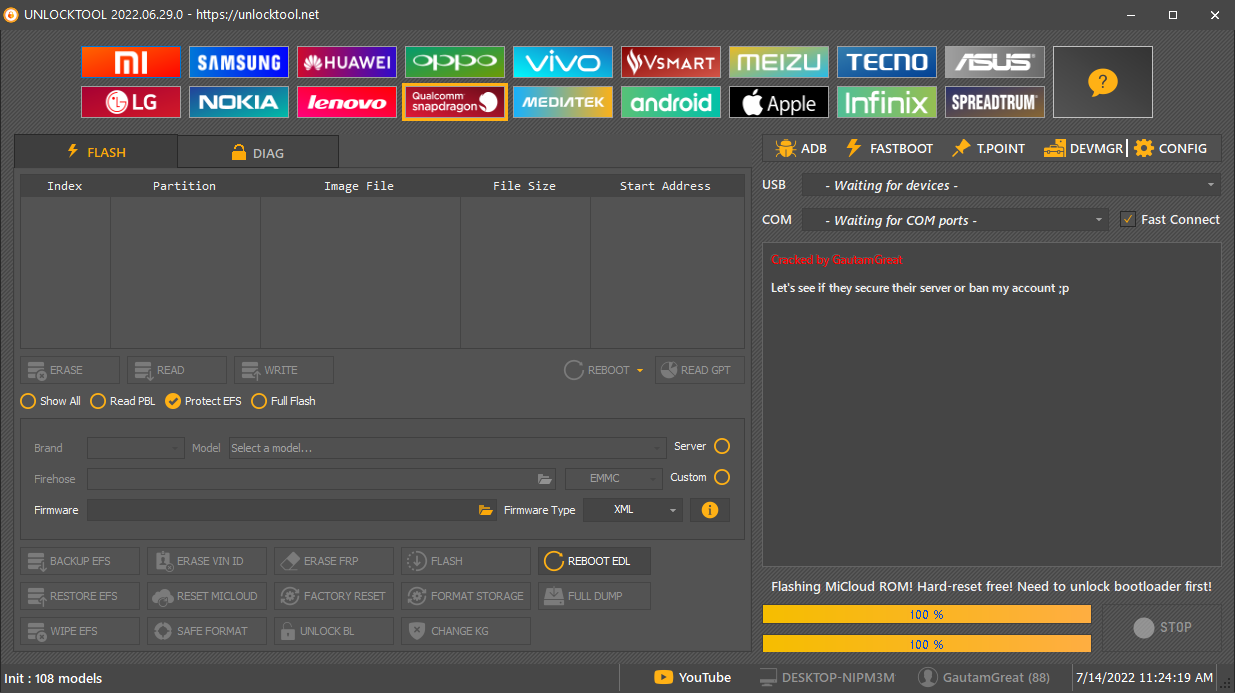 Lenovo
frp

Lenovo Tab 10 TB-X103F

Lenovo Tab 4 10 Plus TB-X704V

Lenovo Tab M10 TB-X505X

Lenovo Tab4 10 TB-X304F

Lenovo Tab4 10 Plus TB-X704Y

Lenovo Tab4 A8 TB-8504F

Lenovo Tab4 8 TB-8504

Lenovo Tab4 8 TB-X504F

Lenovo tab4 A8 Plus TB-8704F

Lenovo Tab2 TB2-X30L

Lenovo Yoga Tab 3 10 YT3-X50M

Lenovo Z5 Pro GT L78032

Lenovo Z6 Pro L78051

Lenovo Vibe Shot Z90a40

Lenovo Vibe K6 Power K33A42

Lenovo Vibe P1 P1a41

Lenovo VibeX3 ROWX3a40

Lenovo A6000

Lenovo A6010

Lenovo A6020a40

Lenovo Vibe K5 A6020a41

Lenovo K10e70 K10e70

Lenovo K10 Plus L39051

Lenovo Lemon K3 K30 – W

Lenovo K33

Lenovo K5 Note [2018] L38012

Lenovo K6 Note [K53] K53a48

Lenovo Zuk Z2 Z2131
Xiaomi
Unlock the bootloader
Xiaomi Mi 5X Tiffany

Improved

Recovery safe format for improved tab LG factory reset
Changelog!!!
UnlockTool_2022.06.29.0 Released Update Auto.
APPLE (Improved Fix Drivers Auto-Send File Ramdisk Ios 15).

– Boot Devices Ramdisk IOS 15. x (iPhone SE/6S/6SP/7G/7P/8G/8P/X)

– Backup Passcode

– Restore Backup

Hardware Info

– Auto-Fix Drivers File Ramdisk IOS 15 (Boot Device).

– Add Disable OTA Updates + Factory Reset ( No JB Ios 12 -> ios 15.x)

– Add Ramdisk Backup/Restore Support zip

– Add Fix UsbDk filter

– Add Create ICINFO.sisv
Unlock Tool Crack Unlock Tool
Unlock Tool Crack Unlock Tool Crack Free Download
How to Use It?
You first need to download the zip file at the link below

Next, unzip all files on the drive

. It's essential

Next, extract all files from the folder you just opened.

Run the "

UnlockTool-2022-06-29-0_Loader.exe

"

If you don't want the tool to be open, make sure you uninstall any monitor or debugger software.

Next, enter any username, password, or type: I 

–

Next, wait for the tool to open

Use the Bluetooth connection to connect your phone and perform any function

Enjoy !!!
Unlock Tool Unlock Tool Free Download
Download this file:
README:
Compatibility The tool works perfectly with Windows XP and Windows Vista.
Make a Backup: Before you try the above tool, please make a backup from your Android Smartphone/Tablet. Flashing any Firmware, recovery, or firmware could cause the device to be bricked.
Credits Unlock Tool Crack Unlock Tool Crack Free Download was created and distributed by the developer. The developer is fully credited for the free distribution of the tool.
Download Link:: Mediafire – Usersdrive –Mega – Google Drive – 4shared – OneDrive – TeraBox