tedddby Activator V5.0.3 Free Download | Windows Computer
iCloud Activation Lock Bypass Tool | Bypass iCloud lock Unlock Tool
Some of us own an iPhone or an iPad that they don't use because they can't activate and skip the iCloud lock page because you forget the password or email, you may eventually have a device that you don't use for that reason, and today with Download Tedddby Activator V5.0.3 Tool you can easily unlock iCloud Bypass lock iOS 14.6/14.7 in Full free with Everything Fix iCloud sign in, ON/OFF and using your iPhone again.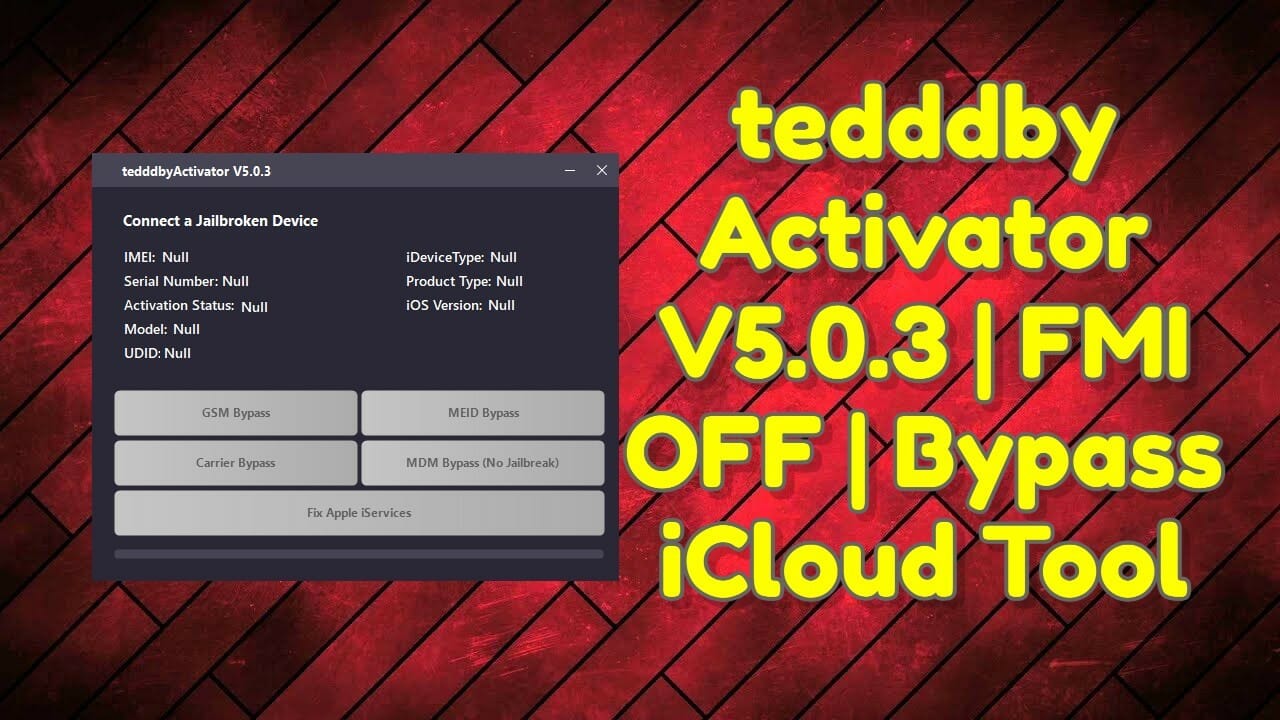 Like, Follow, Subscribe me on :
All Mobile Firmware:: Link
The iCloud problem has become a nightmare for every iPhone/iPad/iPod user. Once you create an iCloud account to save your data without saving the account information in a safe place, and over time you forget the account information. and stuck on the iCloud verification page, how can the user then delete the iCloud lock!! Today, we explain the way to unlock the iCloud through a new Tedddby V5.0.3 Tool that specializes in unlocking and deleting the iCloud. The iCloud is one of the biggest problems facing the iPhone/iPad/iPod user, we offer a bypass iCloud tool called Tedddby V5.0.3 Tool that provides services to bypass iCloud.
Apple device is known for its strong security system in its phones, which is very useful in case your iPhone/iPad/iPod is lost or stolen. The iCloud Lock will protect your device and therefore it will be impossible to access your private data if the activation lock is activated without entering the password & email, but the problem is once you forget our Icloud information, or you bought a used device from Amazon or eBay and found that the device you buy is locked. so in this post, we will learn about the Tedddby Activator V5.0.3 Tool to bypass the iCloud lock and we are not responsible for the wrong use of it.
Features tedddby Activator:
FIX NOTIFICATION
Hello Screen Bypass
Some Version FMI OFF
iOS Latest version supported
No need downgrade
No Need Activation
Easy To Use
Portable tool
iCloud Remove Untethered – Bypass
FREE TOOL NO NEED ACTIVATION OR CREDIT Balance
How To Use?
First, jailbreak your device with
IF Jailbreak is successfully then back to your desktop
and download and open this tool which I have to give you the link below
Now Run the tool as admin
Follow Tool screen and bypass your iOS Device
Enjoy!!!
 Supported devices:
A) iPhone 7 – X From iOS 12.2 to iOS 14.5.1 [NO MEID DEVICES ONLY]
B) iPhone 8 – X (On iOS 12.2 to 14.5.1 AND iOS 14.7 BETA 1/2/3) [NO MEID DEVICES ONLY]
We do NOT issue refunds, we can do informal negotiations, for live support contact our Support Manager on Telegram by clicking the following link (Contact Support)
We consider that you know how to use our tool if you have registered. (a support service remains available, however)
Our support is at your disposal to help you, however, we kindly ask you to be patient and courteous.
tedddby's Activator V5.0.3 is an awesome iCloud bypass tool for iOS 5 devices such as iPhone 4, iPad 2, and iPad 3. This iCloud activation process works without SHSH blobs and allows users to bypass the iCloud activation lock once it is completed.
tedddby Activator is the latest, workable Activator to make the new devices like the iPhone 5S, iPad Mini 3, iPad Air 2, iPod Touch 6G jailbreak.  This activator does bypass FMI (Factory-based Mobile Device Unlock) Off of the newest devices which are 5C, 5S, 6, 6s, 6 Plus etc simultaneously.
tedddby Activator 5.0.3 has been released to support iOS 9, 8.4, 8.3, 8.2 and 8.1.2 for many of the Apple Devices like iPhone 6S Plus(5s/5c/5), iPad Air 2(mini 3/mini 2), 4th Generation iPad (iPad with Retina Display), iPad mini (iPad 4/3/2), iPod Touch 6, iPod Touch 5th Generation and iPod Nano 7th Generation …
tedddby is the only iCloud Bypass tool that is not just for fun! No need to have your actual device at hand, just do the activation on our server, download the firmware version you were locked to and restore.
Activator iOS 9.0 – 9.x – 10.1.1 – 10.2 Devices ios-9.2-10 Activator is the ultimate iOS software release designed to take full advantage of your device's capabilities, restoring it to the maximum performance possible without any need for technical knowledge or lengthy configurations. tedddby Activator is the only product that gives you full access to all system features in order to fully customize your device and unleash its true power!
TeddyddbyAppleTool Activator will allow you to set a passcode on any iOS device running iOS 5 or higher. You can use this tool to bypass the activation lock on the latest iPhone, iPad, iPod Touch
Download Link:: Link