Miracle Meizu Tool 2.15 Free Download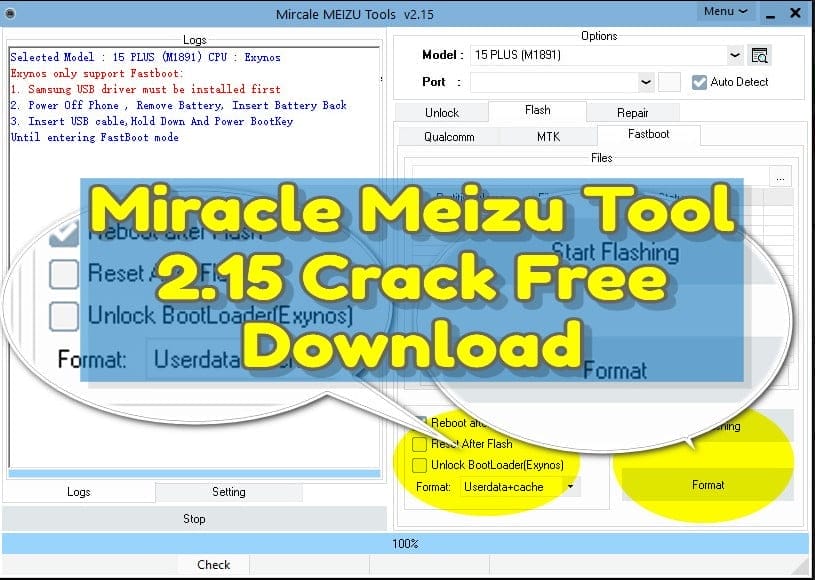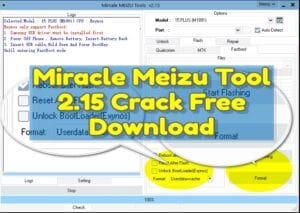 Miracle Meizu Tool Version 2.15 Free Download Working Without HWID Or Activation
Hello, friends today during this post I even have the newest version of the miracle Meizu tool 2.15 version free for all users. now you no got to activate or purchase activation is free by the GSM Sindh team for all users. may be a paid but someone leak this version now it's totally free. if you've got a stuck for remove FRP, Flash, Repair IMEI on Meizu smartphone then this tool may be a complete package for all devices.
Features:
Free with Miracle Box/Miracle Thunder for Limited Time
No Need for any Box or Hardware (Just Login)
# Miracle Xiaomi Login User can use their Credits
# Need Miracle Meixu Login Pack
# Need Miracle Operation Credits
$ Limited Time Offer Xiaomi Login User Can Use Meizu Tool
[+] Flashing Credit Need 5
[+] Bootloader Unlock Credit Need 10
[+] 1 Credit 1 USD
# Flashing :
Flashing MTk
Flashing Qualcomm
Flashing Fastboot Mode
Read Partition
Delete Partition
Format Userdat/Cache
Format FRP
Format Selected
# Repair IMEI
Supported Mediatek
Supported Qualcomm
#Unlock
Factory Reset
Remove Account
Remove FRP
Repair Restarting
Bootloader Unlock
Bootloader Relock
Supported Models
M3s (Y15)
U20 (U20)
U10 (U10)
MX6 (M95)
M3X, U30 (M92)
M3 Note (M91)
M2 (M88)
MX5 (M85)
M2 Note (M81)
M3 Note (L91)
M1E, M3E (A02)
Note 9 (M1923)
16th Plus (M1892)
16th (M1882)
Meizu 16XS (M926Q)
Meizu 16s
Meizu 16s Pro
Meizu 16t
15 (M1881)
16X (M1872)
15 LITE, M15 (M1871)
15 Plus
M8 Lite, V8 (M1816)
M8, V8 Pro (1813)
PRO 7 Plus (M1793)
PRO 7-H (M1792)
MS6
M5 Note (M1621)
Noblue 5C
Noblue 5S
Noblue A5
Noblue E
Noblue E2
Noblue M1
Noblue M2
Noblue M5
Noblue M6
Noblue Max
Noblue Note 2
Noblue Note 6
Noblue Note 3
Noblue Note 5
Noblue Note X
Noblue Note 9
What's the new Miracle Meizu Tool 2.15
Miracle Meizu Tool
No Need any Box or Hardware
# Free for Miracle Box and Thunder (Limited Time)
[+] No Need any Box or Hardware
Miracle Meizu Tool Released Notes V2.15
1. Meizu MTK Improve Connecting
2. Meizu MTK No Need Credits (World's First)
3. Some Minor Improvements.
4. No Support Miracle Key/Thunder Users
How To Use?
First download setup file
Extract setup file
Run the most file
Once the login interface is open now open loader as an admin
Now again click on login button
boom now's open enjoy the
README:
Compatibility: The tool runs perfectly on Windows XP, Windows Vista, Windows 7, Windows 8, Windows 8.1, and Windows 10 (32 bit and 64 bit).
Take a Backup: If you're willing to undertake the above tool, then please take a backup of your personal data from your Android Smartphone or Tablet. As flashing any Firmware or recovery may brick the device.
Credits: Miracle Meizu Tool is made and distributed by the developer. So, full credits attend the developer for sharing the tool for free of charge .
Download Link:: Link 1:: Link 2