Miracle Xiaomi Login Edition 1.56 Free Download
Miracle Xiaomi Tool 1.56 Free Download Working and tested [No need activation or buy]
Hello, friends during this post I even have the newest tool for Xiaomi tool 1.56. is 100% working or bug-free this is functioning on any windows computer no need for any special requirement. the tool is allowed users to get rid of mi account, FRP, Flashing on Qualcomm and MTK phones. MTK Auth Bypass Supported. I even have given you the entire list of features you'll check from them.
Miracle Xiaomi Tool Pack (Login Edition) allows you to perform Flash, Decode, Read Info, Remove Mi Account, and lots of other operations on Xiaomi phones.
Features Miracle Xiaomi Tool :
Supported Modes:
ADB Mode
EDL Mode
Diag Mode
Fastboot Mode
Sideload Mode
Features:
Read Info
Factory Reset
Remove Mi Account
Disable Redmi Mi Account Reset (Anti Relock)
Remove FRP
Remove Cloud APK
Read Pattern
Remove Screen Lock
Relock Screen
Reboot to EDL
Reboot to Fastboot
Reboot to ADB
Reboot to EDL Force
Read/Write Security
Repair Network
Wipe Security
Read/Write QCN
Erase IMEI
Enable Diag
Repair IMEI with 4 Methods
Xiaomi IMEI Check
Mi Patch System Anti Relock
Flashing
Bootloader Decoding
changelog Miracle Xiaomi Login 1.56?
Miracle Xiaomi Tool
Complete Xiaomi
Version 1.56 (12th April 2020)
[+] No Need for any Authorized Tool.
[+] No Need for any Xiaomi ID.
[+] No Need any BOX/Dongle.
[X] Miracle Xiaomi Tool v1.56 (Login Edition)
Reinvented Update By Miracle Team
1. Add MTK Disable Auth Supported
Xiaomi Redmi Note 8 Pro
Xiaomi Redmi 6A
Xiaomi Redmi 6
Xiaomi Mi Play
Xiaomi Redmi 10X 4G
Xiaomi Redmi 9 Prime
Xiaomi Redmi Note 9
Xiaomi Redmi 9A
Xiaomi Redmi 9C
Xiaomi Mi CC99
Xiaomi Mi CC99 Pro
2. Add Improve Disable Authorization Supported
Mediatek MT6763
Mediatek MT6580
Mediatek MT6582
Mediatek MT6761
Mediatek MT6757
3. Add Oppo Realme New Mobile Factory Reset (Meta Mode)
4. Improve Oppo EMMC Factory Reset (Meta Mode)
5. Add Oppo Android 11 Factory Reset (Meta Mode)
6. Fix Some Bugs.
How To Use?
First Download Setup from below link
Extract all file on c: – No space between the name
Now open the "Miracle_XiaoMi_Tool.exe" file
after run please await login windows once the login screen is showing now run loader as admin and reopen the tool.
Enjoy The Tool !!!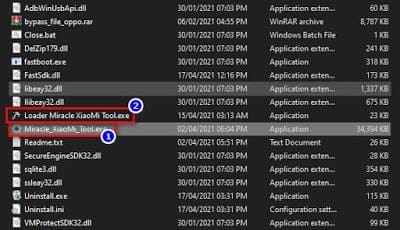 README:
Compatibility: The tool runs perfectly on Windows XP, Windows Vista, Windows 7, Windows 8, Windows 8.1, and Windows 10 (32 bit and 64 bit).
Take a Backup: If you're willing to undertake the above tool, then please take a backup of your personal data from your Android Smartphone or Tablet. As flashing any Firmware or recovery may brick the device.
Credits: Miracle Xiaomi Tool 1.56 is made and distributed by the developer. So, full credits attend the developer for sharing the tool for free of charge
Download Link:: Link 1:: Link 2