DevTeamPRO Hello V4.6 | Hello Screen Untethered Bypass GSM | MEID Latest Tool
DevTeamPRO Hello V4.6 | Hello Screen Untethered Bypass GSM | MEID Latest Tool. If you have an iPhone that has a bypass, make sure iOS15 isn't up-to-date. Make sure you are using DevTeamPRO Defender V5.2 it's totally free and compatible with all versions of iOS. To avoid issues with your client, stop an automatic upgrade feature.
One of the most impressive aspects that they have security features is the iCloud activation lock.
This gives you the power to take the control of your data. If your iPhone is stolen, thieves won't be able to access it since it's got the activation lock that you have associated with it. They'll require the password and username of the Apple ID to access it.
It is important to note that the iCloud Activation Lock works for hand in conjunction in conjunction with " Find My iPhone" It is another security function that helps you find your device that is missing. The two options are standard for every iPhone and should remain in that manner.
A side note, if like to know whether you're able to determine if the "Find My iPhone" feature is on your device, or not, you can go to:
Setting > YOUR NAME iCloud Find My iPhone
Although using the iCloud Activation Lock feature is certainly important and does a fantastic job, there are situations where you feel insecure. A good example is when you purchase a used or secondhand iPhone and you don't know that it's locked.
The Features DevTeamPRO Hello:
DevTeamPRO Hello V4.6

Bypass iOS14.8/13/12

Fix Errors

GSM/MEID Bypass

Broken BB Bypass

Bypassing the iPad/iPod

Premium Program

Goodbye! GSM with Signal
iOS 14.5.1|14.5

iOS 14.4.2|14.4.1

iOS 14.4|14.3

iOS 14.2|14.1

iOS 14.0|13.7

iOS 13.X|12.X
Hello GSM no Signal
iOS 14.8|14.7.1

iOS 14.7|14.6
Fixed issues with activation when switching iPhone off and back on iOS12.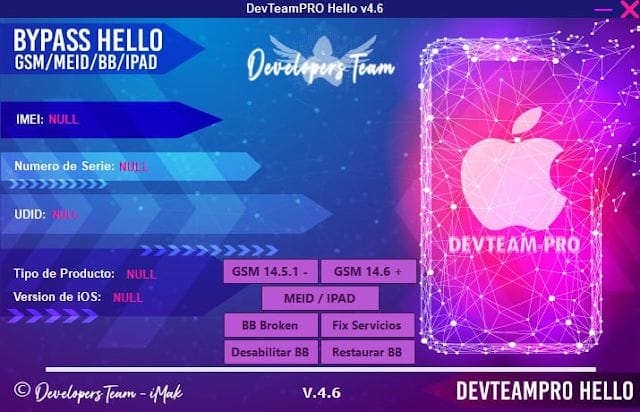 DevTeamPRO Defender V5.2 is free for Everyone, No Need to pay for Activation robust and secure security against viruses that can be harmful. Furthermore, it was expensive and came with a variety of programs that can do a large number of additional tasks on your computer. It's easy to use and doesn't consume a lot of memory. It's designed to be utilized by everyone regardless of technical expertise.
DevTeamPRO Hello V4.6 Hello Screen Untethered Bypass GSM MEID Latest Tool
Ukesharewarez provides the full version of the DevTeamPRO Defender V5.2 Free for all users, with no need to sign up. All you must do is click on the link down below for downloading the software completely at no cost…
The most economical and richly-featured remote administration tool for utilize to work with Microsoft Exchange servers. It provides an easy-to-use remote control interface and command-line interface that is suitable for all businesses. DevTeamPRO Defender V5.2 was created to manage complex and complex tasks like client management, as well as more advanced auditing-based checkpoints like the expiration of passwords, accounts as well as lockouts of accounts mailbox size limits as well as others.
DAVTeamPRO Backup Protector V5.2 Full is the ideal solution for those who want to protect Windows operating systems and Microsoft Office documents, media files stored on your computer without the need to invest long hours or even minutes making an efficient backup. The program offers a large and stable database and an intuitive interface that lets users set up fully automated backups for all documents and data on your PC with no need for manual work. This is the perfect choice for people who want to set up an automated backup software for computers or laptops with just only a couple of clicks, and with no prior experience.
DevTeamPRO Hello V4.6 Hello Screen Untethered Bypass GSM MEID Latest Tool
It was developed by a small group of programmers, dubbed The DevTeam Defender V5.2 provides powerful anti-hacking software that allows gamers and publishers to protect their content from piracy and tampering. Defender's revolutionary dual-layer security makes it the most secure anti-cracking program currently available. The software was designed from the start with a focus on real-world accuracy and user-friendliness. We believe you need to learn quickly how to use our program and be prepared to defeat the hacker community in a few minutes from the moment you launch our installer.
The Dev Team Pro latest anti-ban technique that works with proxy IPs. The updated tool is working flawlessly in all countries. There is no requirement for activation.
How To Remove MDM from iPad
Protecting your PC shouldn't be difficult. DevTeam Group gives you the most reliable security software at free online. It is built on Windows security features included in Windows but is more secure and more robust. It's a security application that's cloud-based and helps to keep your computer safe. We're here for you for free.
DevTeamPRO Hello V4.6 Hello Screen Untethered Bypass GSM MEID Latest Tool
DevTeamPRO Hello V4.6 | Hello Screen Untethered Bypass GSM | MEID.One of the most effective security suites in their price. Devkits Defender offers advertising-free antivirus software. It can help you get rid of any type of malware such as Trojans and spyware, rootkits and worms, and a myriad of others. It also protects your network and computer as well as Internet activities by blocking access to unauthorized software.


DevTeamPRO Defender V5.2
Download Link:: Link 1:: Link 2:: Link 3:: Link 4:: Link 5:: Link 6

DevTeamPRO Hello V4.6
Download Link:: Link 1:: Link 2:: Link 3:: Link 4:: Link 5:: Link 6