iBypasser v3.8 New Version Free for all users
iBypasser 3.8 For iCloud bypass | Fix iService | A11 Erase Bootloop Fixed Tool. The most recent version is developed by Ranzhie. In this version, you will find a few changes and a more efficient version is now available. After downloading the application you'll be able to enjoy the simplicity of using it. In this version, the new models are supported, as well as an update to iOS Version 14.8.x.
Like, Follow, Subscribe me on :
All Mobile Firmware:: Link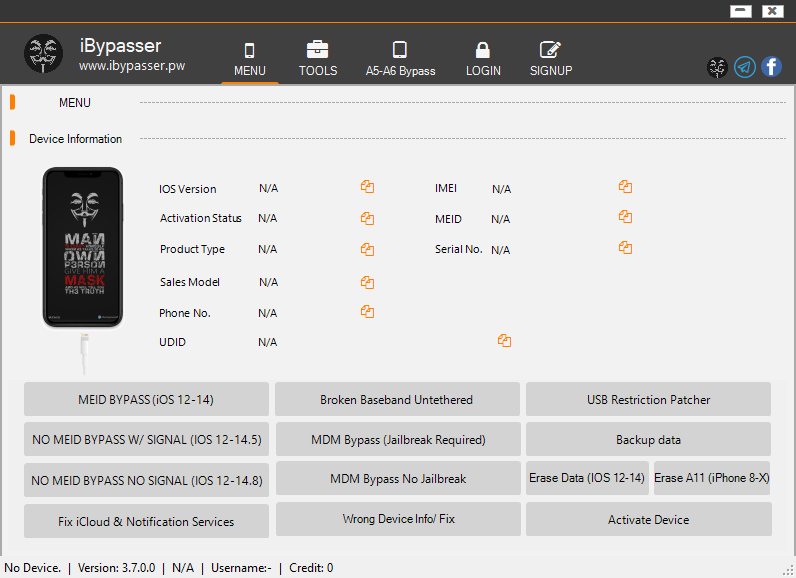 Features iBypasser v3.6:
On the MENU TAB:
In this case, you'll need to look for a variety of features that you can utilize on iPhone and iPad devices:
MEID Bypass (iOS 12-14)

Fix iCloud Services

Incorrect device information/Fix

NO MEID Bypass (iPhone 7-X)

FMI OFF (iOS 13-14)

FMI Off Open Menu

Broken Baseband Not Tethered

Tetherless (iOS 9-12)

Backup DATA

To activate the device

MDM Bypass
iBypasser v3.5 Latest Version Free Download
In the TOOLS TAB:
Locking Carrier (iPhone 7-x) Soon Update

Upgrade to the most recent IOS Version

Restore Original IOS

Erase DATA (IOS 13-14)

Terminal Open Terminal

Restore Baseband

Take off the Baseband

Removing Jailbreak for applications for banking

Reboot

Shutdown

Sleep

Start Recovery Mode

Download DATA

Upload Data
In A5 In The A6 Bypass TAB:
A5 Devices

iPad Mini 1

iPad2

iPad3

iPhone 4s

iPod Touch 5

A6 Devices

iPhone 5

iPhone 5c

iPad4
Changelog !!
!
iBypasser v3.6 Latest Version Free Download
GSM bypass untethered IOS Up to 14.8!

 

All working (facetime and notif siri imsg, iCloud) resolved the problem of battery drain!

The update included MDM Bypass, and no jailbreak was required.

This One-Click Carrier Unlock feature was added to iPhone 5s and up (FMI must be turned off or there isn't an iCloud account)

Optimized and improved bypass process.
How To Utilize?
The first download tool is from below the links

Extract tool for desktop

Download iTunes

Open the folder

Run "bypasser.exe" in admin mode

Connect your device to a computer

enjoy!!

!
iBypasser v3.6 Latest Version Free Download
iBypasser v3.6 Latest Update Update, with the addition of GSM MEID Bypass with a single click. The most effective solution to GSM MEID Bypass capability. The most recent version of iBypasser can be used on all devices, including Blackberry's iPhones, BlackBerrys Android gadgets, and many more. It's a must-have! iBypasser provides the best and most efficient baseband bypass software that is available today! iBypasser is accessible for download. It is compatible with all networks and the even U.S.
models that have the activation loop models with the activation loop! Enter your MEID (available through a range of mobile spy apps) after which click the "Bypass" the "Bypass" icon. The application will be activated upon your first time using it. The latest version of iBypasser v3.5 features a brand new appearance and a brand new algorithm that detects GSM/GPRS bypasses making bypassing easier! the algorithm is controlled by an industry-standard GPU card, which increases the speed.
iCloud Unlock
The iBypasser v3.6 The latest update with added GSM MEID bypass in one click. It can break the GSM MEID Security code and permit any user who has a Sim Card to access the GSM signal coming from the phone at present. WCDMA, GSM, and CDMA phones are supported. It is compatible with all GSM Nokia phones, including New Lumia It is not mandatory to have a Sim card.
Simply select MEID bypass, and you'll find that your iPhone will be unlocked forever. iBypasser allows you to circumvent any iPhone carrier limitations in just a few minutes. iBypasser is the sole application that is able to bypass ALL restrictions that are imposed by your GSM iPhone, no matter the model 8.x 9.x. 10 or 10. The x!
Activation Lock Bypass
iBypasser v3.5 New Update that includes GSM MEID Bypass Single Click iBypasser V 3.5 is a brand new update that added GSM MEID Bypass single click to GSM Repair Center. iBypasser V3.5 Latest Update Update added GSM MEID Bypass Single Click iBypasser V3.5 is a complete package ( Registration fake, Imei Blacklist Check, and GSM MEID Bypass All in one app . )
This program gets around android and iOS phones using the unique device identifier (UDID) which is also known as the serial number (SN) to allow registration with iTunes' iPhone Developer Program, Android Developer Program, Windows Phone Marketplace, and Amazon's developer program for kindle. Utilizes a new method to circumvent UDID checks and allow users to benefit from the advantages of unlimited registration via the applications. Anyone who has the same Apple ID or e-mail address can communicate your test iTunes account information (iTunes gift card, etc. )
IBypasser v3.5 Newest Update Update included GSM MEID Bypass Single-Click. iBypasser is the first and only choice for Apple iOS devices to bypass activation servers on devices such as iPhone, iPad, and iPod Touch. iPhone, iPad, iPod Touch. The most significant feature of the most recent version of iBypasser is its MEID Bypass (also called SuperIMEI).
Users can simply enter the device's display, bypassing an activation system. There is no need to be patiently waiting on an Apple 5 minute delay … Updates to Version 3.5 with a new user interface and brand new features including MEID Bypass, along with other…
IPad Activation Lock Bypass
iBypasser lets users use the access to hack their GSM Sim Card and get access to MEID by bypassing PIN codes or PUK blocking by using iPhone, iPad, or iPod Touch without jailbreak. Enter the number and click.
Bypass Activation Lock IPad
iBypasser v3.5 This most recent Version of HTML0 iBypasser v3.5 available for download available for free to download. It is an easy and user-friendly program that allows you to skip the activation procedure of Windows 7, Vista , XP and then reactivating the operating system once it is installed on many PC.iBypasser is a program that employs techniques and hacks (not cracks) to offer you an authentic option to bypass the license that is compatible with your operating system.
iBypasser 3.7 For iCloud bypass | Fix iService | A11 Erase Bootloop Fixed Tool. is an application which allows you to deactivate the Icloud activation process on any device and also preserve the baseband of your device and protecting your personal data.
iBypasser 3.7 For iCloud bypass | Fix iService | A11 Erase Bootloop Fixed Tool. will be your most efficient tool to disable iCloud accounts on an iOS gadget. By using this bypass activation, you can alter your Apple ID username and password and remove the iCloud activation lock simply by changing all the pertinent information with only a single click.
How To Bypass iCloud Activation Lock For Free
IBypasser iCloud Removal tool V3.5 This free version of the newest version All Version Setup is an instrument specially designed to help you can assist you with all iCloud tasks of bypassing. It's the top software that allows you to remove and disable the iCloud activation lock on your iPhone, iPad, and iPod touch. The program iBypasser iCloud remover is downloaded for free to the personal PC you own. Its full-setup version can be downloaded to download here.
iBypasser v3.5 included GSM MEID Bypass single-click download. Our tool allows you can enable or deactivate GSM Bypass effortlessly. This tool will assist you in resolving the issue whenever a GSM supplier has put your phone on the Black List You can check whether the IMEI of your device is unique or not. If it's unique, you can get it off the Black List using our tool.
Activation Lock Bypass Code
iBypasser 3.7 For iCloud bypass | Fix iService | A11 Erase Bootloop Fixed Tool. You are now able to unlock your iPhone in only one click using this most recent version of bypasser. This is the most advanced and top-of-the-line piece of software that has been released since the very first iBypasser that was updated and made available for users to unlock their phones with just one click.
Introduction to Ibypasser V3.6 is a reliable and user-friendly password management. It allows you to track the passwords you have in a safe and efficient way.
What do you mean by the Ibypasser V3.6?
Ibypasser, is a totally lightweight and free application that lets users override certain limitations and restrictions in their devices. It works on Android devices and is available via Google Play. Google Play Store. Ibypasser is simple to use and includes a number of features that can be useful in certain situations.
Ibypasser is a Windows software that allows users to disable certain Windows security features. Ibypasser comes in three distinct versions, which are free or premium, as well as business. Free versions is able to only allow one bypass every week. Premium versions allow users to use more than 10 bypasses in an hour while the Business version allows unlimited bypasses.
If you want to access restricted apps and websites You'll need to make use of a VPN provider. If you're trying to circumvent restrictions and censorship, then you need to make use of an iBypasser. It's an effective tool that permits users to block blocked applications and websites in many different countries. This version of iBypasser v3.6 most current version is available for download on the official site.
The IBypasser V3.6 software allows you to bypass the security programs and filtering that are used within the operating system on your personal computer. It is specifically designed for accessing blocked sites, safeguarding your privacy, and eradicating the threat of malware. This version of IBypasser V3.6 is available for download on the official website for free charge.
Ibypasser can be described as a totally free and powerful program that allows users to bypass any limitations or restrictions which are set by the device. With Ibypasser you are able to connect to any application or website without restrictions. Ibypasser has numerous features that make it an indispensable tool for anyone who would like to use the web without limitations.
Ibypasser, is a smartphone app that allows you to circumvent the limitations of networks such as limitations on data and tracking of your location. It is one of the most well-known applications available and has a huge number of users.
How To Bypass Activation Lock On IPhone
Ibypasser is a device that offers many options, making it an ideal tool for anyone who wants to access the internet without restrictions. The most significant features that are offered in Ibypasser are:
The ability to circumvent limitations on data and location tracking. Access to the internet using every VPN (or proxy) server. You can alter the settings of your computer to maximize the benefits of the program
do I Use Ibypasser V3.6? Ibypasser V3.6?
When you're looking to bypass the limitations that are imposed on your computer, you'll find that Ibypasser is the best software. The free download allows you to eliminate all security measures restricting your ability to do whatever you'd like with the computer.
IPhone Activation Lock Bypass
After that, you need to start Ibypasser. Navigate through the menus to choose the restrictions you wish to remove. Once you've chosen the options you want to eliminate, Ibypasser does all the work by removing the restriction from your computer.
How To Activate ICloud On Your iPhone/iPad. How to Make Your Personalized Apple Watch Case With Icloud Activation
iBypasser 3.7 Fix iService | Erase A11 The Bootloop Fix Tool comes with the most recent version and is more effective than previous versions. Once you download the app, you'll be able to use it with ease. In this version 11, models are compatible with an upgrade up to iOS Version 14.8.x
iBypasser works with a range of iOS devices and disable the devices; it works with devices running iOS Versions 10.3 up to 14.4 and includes 14.8.x the beta release.
IBypasser 3.7 is among the most powerful and effective iCloud bypass tools available on the market. With iBypasser, users are in a position to bypass the security screens, erase Apple ID and erase devices without a passcode. It also supports all iOS versions that include iOS 14.9 beta/14.8/13.7 as well other versions. It's user-friendly 100% and totally safe.
IBypasser iCloud Remover tool V3.6 free download. If you're looking for a way to get around the limitations imposed on your computer, Ibypasser is the best solution. It's software that is free and lets you access websites and files which are blocked from firewalls and administrators. It is user-friendly and can be used on any device with internet connectivity.

iBypasser Latest Version
iBypasser The most recent Version is an iPhone diagnostic software for Windows that aids customers as well as businesses to identify, fix any issues that may arise and allows them to make use of their devices offline within an environment for testing, which is perfect for security research, repairs and various other aspects of the development of software.

Download Link:: Link 1:: Link 2:: Link 3:: Link 4:: Link 5:: Link 6