iBypasser v3.8 The Most Recent Version Of The Setup Free Download
iBypasser iCloud Remover Tool V3.8 Latest Free Download. is a cost-effective and easy Windows tool that lets users disable the iCloud Hello screen, and repair has broken basebands on all iPhones or iPad devices. If you're iPhone is stuck in the iCloud lock, then it's an extremely useful tool for unlocking the iCloud lock on your iPhone or iPad. So, if you'd like to download the iBypasser iCloud Removal Tool V3.6 the most recent version, go through the following article and then click the button for downloading.
It is an iPhone diagnostic program for Windows that assists users as well as companies identify, fixing, and resolving possible issues and allow them to use their devices offline in a testing environment, which is ideal for repairs, security research, and other kinds in software creation.
Our software can be used on a variety of iPhones and iPads that run iOS 12. up and up to iOS 14. and above while providing an easy and user-friendly interface that's easy to navigate, use and comprehend.
Like, Follow, Subscribe me on :
All Mobile Firmware:: Link
GSM ATOZ TOOL2
Features iBypasser:
MEID Bypass (iOS 12-14)

Fix iCloud Services

The wrong device's information/fix

There is no MEID bypass (iPhone 7-X)

FMI OFF (iOS 13-14)

FMI Off OPEN MENU

Broken Baseband Not Tethered

Tetherless (iOS 9-12)

Backup DATA

Active Device

MDM Bypass
In the TOOLS TAB:
Locking Carrier (iPhone 7-x) Soon Update

Change to the latest IOS Version

Restore Original IOS

Erase DATA (IOS 13-14)

Terminal Open Terminal

Restore Baseband

Take off the Baseband

Uninstall Jailbreak in order to use applications for banking

Reboot

Shutdown

Sleep

Start Recovery Mode

Download DATA

Upload Data

In A5 In in A6 Bypass TAB:

A5 Devices

iPad Mini 1

iPad2

iPad3

iPhone 4s

iPod Touch 5

A6 Devices

iPhone 5

iPhone 5c

iPad4
Changelog !!
!
What's new What's new 3.8?
Find the cause of backup problems and enable iCloud sign-in as well as other features 100 percent.

Fix SCP error in eraser

Fix SCP error in USB patcher

Fix issue with bypassing iPad

The data integrity checker has been added.

Improved server performance
How to Use?
In the beginning, you must first download the file by clicking the link below.

After that, you need to unzip all the files on C: drive this is extremely crucial

Then go to the folder in which you need to extract the entire file

Start your " iBypasser.exe"

Then, you'll need to install iTunes If you have already installed it, do not bother with this step.

Do you be required in order to jailbreak your device?

Connect the phone and attempt to perform any task

Enjoy !!

!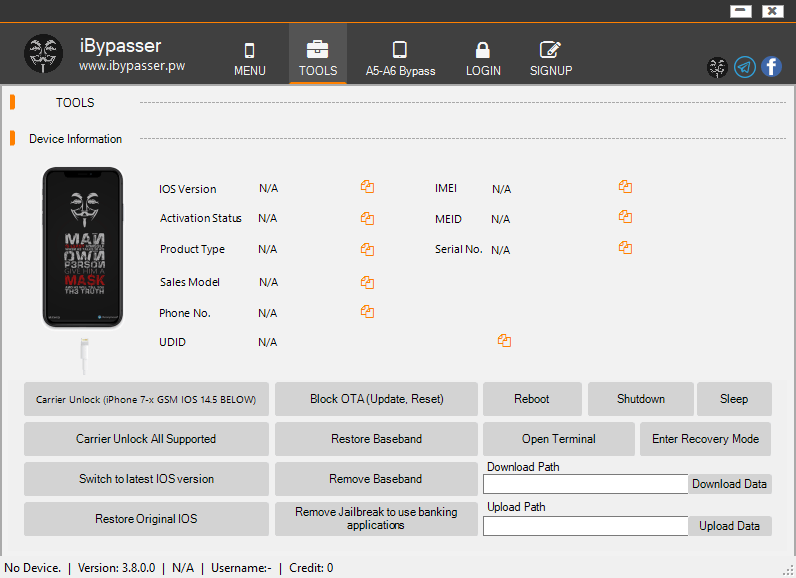 iBypasser iCloud Remover Tool V3.8 Latest Free Download
The iBypasser iCloud Remove Tool provides an iPhone diagnostic tool for Windows that aids customers as well as businesses in identifying, fixing any issues that may arise, and resolving them. The program can be utilized with a range of iPhones and iPads running iOS 12. all the way and up to iOS 14. and higher.
iBypasser iCloud Removal is an affordable and simple Windows software that allows users to disengage the iCloud lock, fix damaged basebands across every iPhone as well as iPad gadgets, as well as also bypass all iCloud iOS version that is running on devices that are locked. The program works with every version of iPhones and iPads running with iOS 12. until iOS 14. without the need for additional money or purchasing unnecessary parts or devices.
iBypasser Download
The iBypasser ICloud Removal Tool V3.8 is designed to be an inexpensive and simple Windows tool that allows users to disengage the Hello screen, and also repair basebands that are damaged across every iPhone and iPad device. If your iPhone is locked in iCloud software, it's an extremely helpful tool to unlock access to the iCloud security lock of your iPhone as well as iPad. If you're looking to download the software follow the article, and click on the button below to begin downloading it today!
iBypasser ranzhie07 Latest Version
iBypasser is a great application to solve all issues that arise with the iOS and iPad versions of iPhones as well as iPads. The software supports iOS 12. up and up. iOS 13. upwards and onwards. It also. It also supports various devices with no problems.
iBypasser Tool
iBypasser 2.0 is an iPhone diagnostic software for Windows that helps customers and businesses in identifying solving, fixing, and resolving potential issues. It also allows users to utilize their devices offline in a test environment it is perfect for security research, repairs as well as other types of development of software.
How to Download and Use:
Click on Download::
After downloading the file, right-click on it and click on Properties, and unlock the file.
Right-click on it and Unzip the file
iBypasser Latest Version
iBypasser The most recent Version is an iPhone diagnostic software for Windows that aids customers as well as businesses to identify, fix any issues that may arise and allows them to make use of their devices offline within an environment for testing, which is perfect for security research, repairs and various other aspects of the development of software.

Download Link:: Link 1:: Link 2:: Link 3:: Link 4:: Link 5:: Link 6