WMT World Mobile ICloud Tools for Passcodes 1.3 The Service Is Free.
World Mobile iCloud Passcode Tool V1.3 With Free Tool. is a tiny tool to remove the passcode and activation locks from any iPhone device. The WMT team has revealed for all users a unique present. You are no longer required to pay for any of the services. All services are free to anyone with an instant self-registered serial number.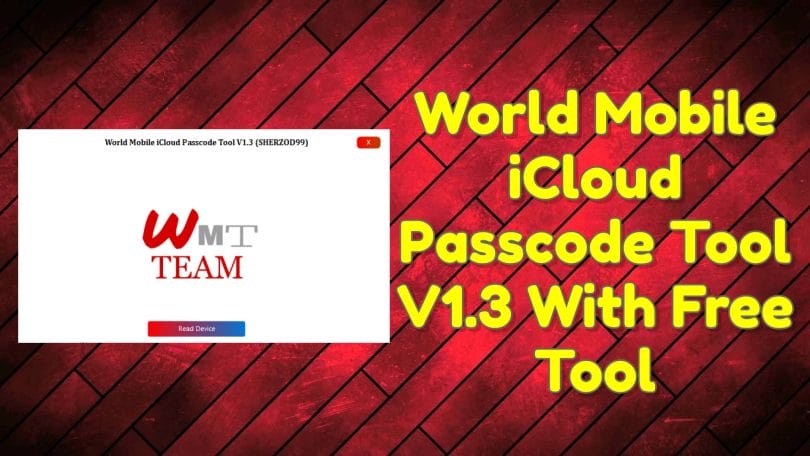 What does Message Blocking Is Active Mean on Android & iPhone
Like, Follow, Subscribe to me on :
All Mobile Firmware:: Link
GSM ATOZ TOOL2
What Exactly Is World Mobile iCloud Passcode Tool V1.3?
World Mobile iCloud Passcode Tool V1.3 It is a simple tool that can be used to remove passcodes or activation locks it is a small tool for removing activation locks or passcode from all iPhone devices. The WMT team has revealed for everyone an offer. You no longer need to pay for any of the services. All services are free to all users who have an instant self-registered serial number.
Global Mobile Passcode Tool for iCloud V1.3 Features:
Tools for WMT team Free by SHERZOD99
USB PATCH for $FREE

Bypass Passcode Full Bypass Passcode Full: $FREE

A11 ERASE: $FREE

ERASE iOS 12-14: $FREE

FX APPS BANKS Cost: FREE

Patch Device

A11 Erase iDevice

Erase Device iOS 12-14

Fix iCloud The Sync

Back-up Device

Activate Backup

Repair Apps Banks

Enable Updates
Download World Mobile bypass iCloud Tool Free For Windows
World Mobile bypass iCloud Tool is free software that allows you to bypass GSM security, backup your passcode on your iOS device, remove the activation screen lock on your iPhone or iPad device, unlock it and remove your passcode by resetting your Apple ID password
The iCloud problem is getting worse. Once you create an iCloud account to store your data without keeping the account information in a safe place, over time you forget the account information.
In the end, it's not possible to unlock the iPhone without a professional service and you have to buy it from an authorized iPhone factory because unlocking is not a simple process, you must use the iPhone Factory Unlocking Service.
Many people prefer Apple's iPhones over Android and Samsung smartphones. The main reason for this is that the Apple phones have a strong security system and with this, you can protect your device, and also if your phone is lost or stolen, the private data won't be accessible.
Take your backup before using Tool because it will remove your personal data completely. The most common reason for locking iPhone is to update the iPhone through the computer. Make sure you have created an Apple ID account. Before updating your iPhone, make sure to remove your personal information from your computer.
How to Download WorldMobile bypass iCloud Tool V1.3
As for the installation, World Mobile unlock iCloud Tool process, you are responsible for it, We are not responsible for any damage that may occur to your phone due to the use of the World Mobile unlock iCloud Tool.
So, that's our lesson today to explain how to use the World Mobile unlock iCloud tool to bypass the iCloud activation. If you experience any difficulties or don't understand any of the steps, leave us a comment below and we will answer you immediately.
Read More: UnlockVipBro Bypass Tool V2.5 Free Download and fix all notifications. backup Passcode. GSM Bypass iCloud. remove Activate Passcode. turn off and find my device.
World Mobile bypass iCloud Tool. World Mobile bypass Tool. World Mobile iCloud Tool. World Mobile Tool.
How To Activate World Mobile iCloud Passcode Tool V1.3?
The first step is to get the ZIP file using the link below.

After that, you need to remove all files from the drive c: this is vitally crucial

Then you need to open the folder that you need to extract the entire file

Start your " World Mobile iCloud Passcode Tool V1.3.exe"

Then, you'll be able to install iTunes

Jailbreak is required

Registration of Serial Numbers: CLICK HERE (FREE)

Connect the phone and attempt to perform any task

Enjoy
What are the common reasons for locking iPhone?
Answer: The common reasons for locking an iPhone is due to the following reasons: * User set a password or passcode which is incorrect or does not match the security requirements of the iPhone; * If the user has no way to access the device or has removed the device from their account.
Don't have an account?
Create one now Answer: Once you have downloaded this tool, just run it and click on the "Add" button. Choose a user name and a password for your new iCloud account. You can also specify the Apple ID for your device. You can also add your family member's information.
World Mobile iCloud Passcode Tool
What is the content of World Mobile iCloud Passcode tool V1.3 files?
You can view the contents of each file and its kind from the contents bo of the next file. In certain cases, it is necessary to drag the scroll upwards and downwards to see all extensions and names of the files.
NOTE: The program is completely virus-free and has been tested with Symantec Endpoint Protection Antivirus so that you can run it without worry.
Create a backup: If you are interested in trying the tool above, make a backup of your personal information on Your Android Smartphone or Tablet. Flashing any firmware or recovery could cause the device to be damaged.
credit: World Mobile iCloud Passcode Tool. This tool is designed and released by the creator. Thus, the full credit goes to the creator for sharing the tool for free.

Download Link:: Link 1:: Link 2:: Link 3:: Link 4:: Link 5:: Link 6