iBypasser 3.3 One-Click iCloud Bypasser FoR Windows Free Download New Release Tool
IBypasser 3.3 latest version by Ranzhie. You can experience many changes in this update and include more powerful options. Once you can download the tool that is easy to use how you can use. Many of the new models support include this update and new iOS version 14.5.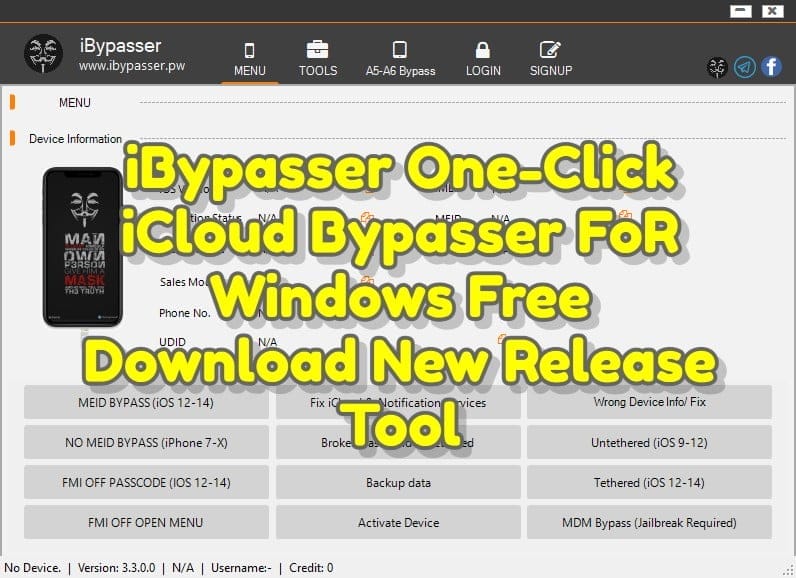 Like, Follow ,Subscribe me on :
All Mobile Frimware :: Link
Like, Follow ,Subscribe me on :
All Mobile Frimware :: Link
There is an iPhone diagnostic software for Windows that helps users and companies evaluate, solve potential issues, and full security research, repair, and other types of software in their device's offline testing environment. Properly helps to manage their devices for the development of the software.
Our software is running a simple and user-friendly interface in iOS 12.x and iOS 14.x in many iPhones and iPods, which is easy to navigate, run and understand ..
In MENU TAB:
In this option you have to find a lot of function that you can use on iPhone, iPad Device:
MEID Bypass (iOS 12-14)
Fix iCloud Services
Wrong Device info/Fix
No MEID Bypass (iPhone 7-X)
FMI OFF (iOS 13-14)
FMI OFF OPEN MENU
Broken Baseband Untethered
Untethered (iOS 9-12)
Backup DATA
Activate Device
MDM Bypass
In TOOLS TAB:
Carrier Unlock (iPhone 7-x) Soon Update
Switch to latest IOS Version
Restore Original IOS
Erase DATA (IOS 13-14)
Open Terminal
Restore Baseband
Remove Baseband
Remove Jailbreak to use banking applications
Reboot
Shutdown
Sleep
Enter Recovery Mode
Download DATA
Upload Data
In A5 – A6 Bypass TAB:
A5 Devices
iPad Mini 1
iPad2
iPad3
iPhone 4s
iPod Touch 5
A6 Devices
iPhone 5
iPhone 5c
iPad4
Changelog bypasser 3.1
-Added Carrier Unlock for iPhone 7-X GSM
-Added Support up to IOS 14.6
-Improved and Optimized Bypass Process
-Added Port Selection of Arduino Devices
-Checkra1n 0.12.3 Supported
Note: Please open your current bypasser version for updates.
For Support: please join our official telegram
https://t.me/ibypasser_official
Please Follow: @RanzhieOfficial on Twitter
How To Use?
First download tool from below links
Extract tool on the desktop
Install iTunes
Open folder
run "bypasser.exe" as an admin mode
Jailbreak your device and connect to pc
Open the tool and do the job you want
enjoy!!!
README:
Compatibility: The tool runs perfectly on Windows XP, Windows Vista, Windows 7, Windows 8, Windows 8.1, and Windows 10 (32 bit and 64 bit).
Take a Backup: If you are willing to try the above tool, then please take a backup of your personal data from your Android Smartphone or Tablet. As flashing any Firmware or recovery may brick the device.
Credits: bypasser 3.3 is created and distributed by the developer. So, full credits go to the developer for sharing the tool for free.