VG Beta Tool MTK Qualcomm Function Free Here
VG Beta Tool MTK Qualcomm is a small windows computer tool. it is allowed users to do many issues on their android phone ex: FRP, User lock, Flashing, TWRP Recovery, and more. it is best for all android users who have been stuck at Repair that android mobile. The VG Tool is supported more than 500+ models of MTK and Qualcomm phones. tool interface is very simple and working all functions. if any problems you can face with this tool please comment below.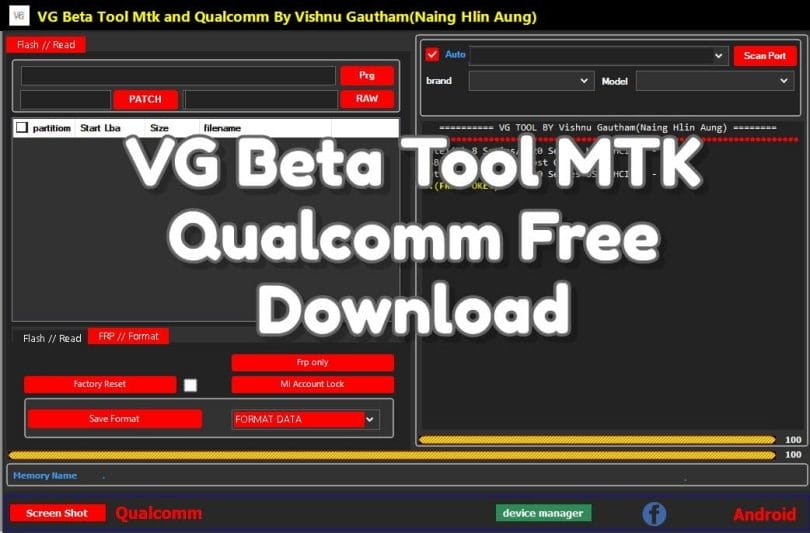 Like, Follow, Subscribe me on :
All Mobile Firmware:: Link
Features VG Beta MTK Qualcomm Tool:
– Remove FRP
– Power Off
– Remove MI account
– Wipe Data
– Disable micloud
– APK
– Backup
– Recovery
– Reboot to fastboot
– Reboot to EDL
ADB Functions (Backup / Restore)
– Backup system with all apps and data
– Restore the system with all apps and data
– Uninstall APK
– Backup and restore system software without data
Huawei
Samsung
Xiaomi
Infinix
Tecno
VIVO
– Select DA (Download Agent)
– Select Scatter
– Select AUTH
– Flashing, Format, Firmware Upgrade
– Flash
– Show All Partition
– Enable Checksum DL
MTK Function (MTK Address)
– Userdata Address
– mi account | persist Address
– FRP Address
– Custom address enter
– Bypass Auth
– Bot ROM (Bypass)
– OPPO
– ASUS
– Huawei
– Tecno
– Lava
– Infinx
– Lenovo
Erasing System FRP Address From all models which tool is supported with autoboot rom bypass in a single click.
Qualcomm Function – Flash/Read
– Read
– Write
– Eraser
– Programme File
– Patch File
– RAW File
– Read Partition
– Flash
Support all kinds of Qualcomm devices no need to select model numbers. download firmware and select PRG, RAW, Patch file and flash your Qualcomm device.
Qualcomm Function (FRP / Format)
– Factory Reset
– FRP Only
– Mi Account Lock
– Save Format
– Wipe DATA APP DATA
– Wipe APP DATA ONLY
– Wipe DATA Only
– FORMAT DATA
– Flashing | SYSTEM | CACHE | USERDATA | BOOT | RECOVERY | MODEM
– Wipe Modem
– Wipe Persist
– wipe
– OEM Unlock
– Remove FRP 1
– Remove FRP 2
– Remove FRP 3
– FRP
– Info
– Factory Reset
– Reboot EDL
– Exit Fastboot
How To Use?
First, you need to download the tool from the below link
Next, you need to install the setup file on your computer
Next close setup if is install successfully
Now Run in admin mode
Next, connect the phone in the various modes which you need to perform or you need to repair your mobile software issue
Done !!!
README:
Compatibility: Windows XP, Windows Vista, Windows 7, Windows 8, Windows 8.1, and Windows 10 (32 bit and 64 bit) runs completely.
Take a backup: If you are ready to try the above tool, please back up your personal data from your Android smartphone or tablet. As a firmware or recovery shines can be a brick device.
Credit: VG Son's device is created and distributed by the developer. Therefore, full credit goes on to developer to share the tool for free.