TFT MTK Module Stable Setup release Download Now (Fixed all bugs)
TFT MTK Module Stable Latest Setup Free Download. is a small program designed for Windows computers. It allows users to get rid of the FRP and Mi Account, Bootloader Relock Unlock, and many more. Within the program, you'll discover various new options for removing FRP or demo from both oppo and Vivo MediaTek devices. Additionally, you can repair IMEI numbers in meta mode in just one click. The interface for the tool is superb. You can use it to fix your MediaTek device in just two clicks.
The tool is available for users at no cost. There is no requirement for activation or an internet connection.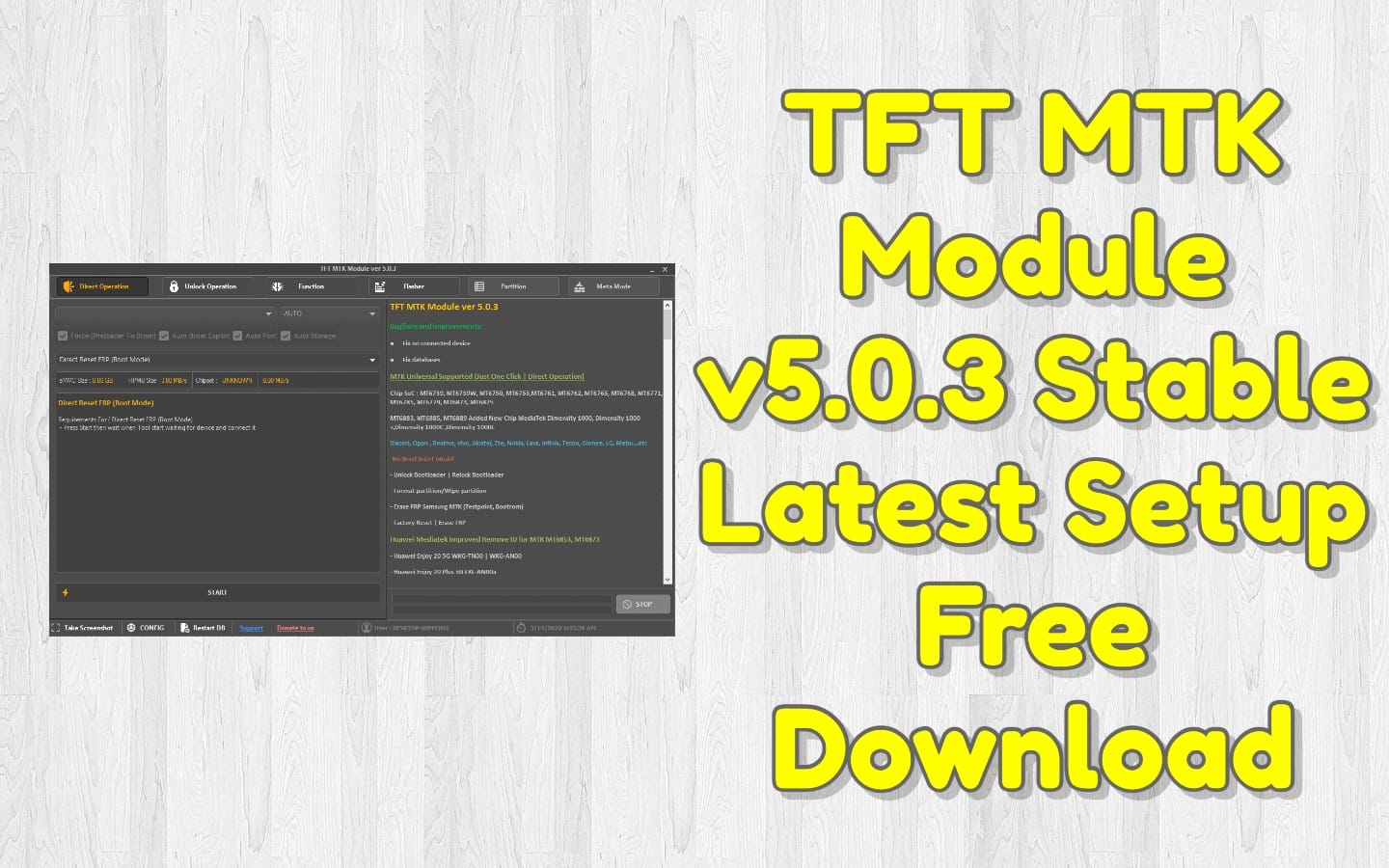 Like, Follow, Subscribe me on :
All Mobile Firmware:: Link
Features TFT MTK Module:
TFT MTK Module
The tool can Unlock Pattern, Bypass FRP, Flashing Multi-Brand Devices, Remove user locks, etc.
List Support Brands:
Samsung
OPPO
Xiaomi
VIVO
Tecno
Huawei
Nokia
Meizu
Black View
Vsmart
LG
Lenovo
iTel
All Latest MTK Devices.
Support Function:
Erase FRP OLD Method
Erase FRP New Method
FRP Samsung
Erase Demo VIVO
Factory Reset
Format Old Type
Format Misc
Erase FRP MTK
Erase FRP QLM
MI Cloud TAM
Unlock BL MTK
For Demo Remove Oppo – New
For DEMO Remove Realme – New
Erase NV Baseband – New
Disable SLA
Install Driver
Dev Manager
Extra Operation
Load Scatter
Scatter Info
FRP Address – Manual Format
UserData Format Address
Persist For Mi Account
Protect 1 Address
Protect 2 Address
ADB Fastboot
Read info
Reset FRP (ADB)
Mi Account Disabled (ADB)
Mi Account Bypass (ADB)
Xiaomi Anti-Relock (ADB)
Xiaomi Relock Fix (ADB)
Reset Face / Pin Lock (ADB)
Read Info (Fastboot)
Reset FRP Method 1 (Fastboot)
Reset FRP Method 2 (Fastboot)
Restart Device
Reboot to normal
Reboot to recovery
Reboot to download mode
Reboot to EDL Mode
Force Reboot EDL (Erase ABoot)
Reboot to bootloader mode
Reboot to fastboot mode
Exit Fastboot mode
Changelog !!!
TFT MTK Module ver 5.0.3 Stable
Everyone, please try this version The problem of not connecting to mode has been fixed Broom Mode
Bugfixes and improvements:
Fix no connected device
Fix databases
MTK Universal Supported (Just One Click | Direct Operation)
Chip SoC : MT6739, MT6739W, MT6750, MT6755,MT6761, MT6762, MT6765, MT6768, MT6771, MT6785, MT6779, MT6873, MT6875
MT6883, MT6885, MT6889 Added New Chip MediaTek Dimensity 1000, Dimensity 1000+,Dimensity 1000C ,Dimensity 1000L
Xiaomi, Oppo , Realme, vivo, Alcatel, Zte, Nokia, Lava, Infinix, Tecno, Gionee, LG, Meizu…etc
 No Need Select Model
– Unlock Bootloader | Relock Bootloader
– Format partition/Wipe partition
– Erase FRP Samsung MTK (Testpoint, Bootrom)
– Factory Reset | Erase FRP
Huawei Mediatek Improved Remove ID for MTK MT6853, MT6873
– Huawei Enjoy 20 5G WKG-TN00 | WKG-AN00
– Huawei Enjoy 20 Plus 5G FRL-AN00a
– Huawei Nova 8 SE 5G JSC-AN00
– Huawei Nova 7 SE 5G Youth CND-AN00
– Huawei Enjoy Z 5G DVC-AN00
– Huawei Enjoy 20 Pro DVC-AN20
– Huawei Honor X10 Max 5G KKG-AN00 | KKG-AN10
– Huawei Honor 30 Lite MXW-AN00 | MXW-TN00
– Huawei Honor Play4 5G TNNH-AN00
MTK Universal Added for MTK MT6757, MT6757T, MT6757CD [Beta]
Added Devices Factory Reset | frp | Flashing | Unlock Bootloader …
– Alcatel Idol 5s
– Meizu M3X
– Meizu E2 M2E
– Meizu M10 M1918
– Meizu Pro 7 M1792 | M1792L
– Meizu X U30
– BLU Vivo X
– BLU View Mega
– Gionee S10
– Gionee A1 Plus
– Infinix Hot 7 Pro
– Infinix Zero 5 Pro
– Lenovo K8
– Lenovo K8 Plus
– Tecno Phantom 8
– Ulefone Armor 2
– BLU View Mega
– UMiDIGI Z1
– UMiDIGI S2
– UMiDIGI S
– Oukitel WP5000
– Doogee Y7 Plus
– Neffos N1
How To Use?
First, you need to download the zip file from the below link
Extract the zip file at desktop
Run the setup installer with a double click on it.

 Next need to install setup with click and confirm the installation

Next, close the setup window and back to the desktop and run the shortcut of a tool

Done !!! Connect phone use the tool
Introduction: Mtk Module V5.0.3 Stable Latest Setup Free Download.MTK Module V5.0.3 is a powerful and easy-to-use mobile development toolkit for Windows and MacOS. It provides a wide range of features to help developers create high-quality, native mobile apps for Windows and MacOS platforms.
TFT Mtk Module V5.0.3 Stable Latest Setup Free Download
The TFT Mtk Module V5.0.3 Stable Latest Setup Free Download allows you to control various devices connected to a computer using a simple graphical interface. This program allows you to control printers, cameras, and speakers, making it an ideal tool for users who need to manage multiple devices from one location. Additionally, this program offers a variety of features that make it an excellent choice for users who need to create custom profiles or settings for specific devices.
Section 1: What is Mtk Module V5.0.3?
Mtk Module V5.0.3 is software for MTK devices that allows you to customize your device's appearance and functionality. It also provides access to system files and features and support for various languages and cultures.
Section 2: Why is it Important?
The TFT MTK Module is important because it allows developers to create custom Android apps and games using the MTK chipset. This module is also important because it provides stability and reliability for app development.
Section 3: How to do Mobile App Development?
If you are looking to develop a mobile app, there are a few things you need to know. First, you'll need to decide what kind of app you want to create. There are many different mobile apps out there, including social networking apps, gaming apps, and even medical applications. Once you've decided on the type of app you want to create, the next step is to decide on the platform on which you will develop it. There are some different platforms available for mobile app development, including Android and iOS devices. After that, it's time to start designing your app. You'll need to develop an idea for your app and then design it using various software programs available online. Once your
Section 4: What are the Best Practices for Mobile App Development?
A few best practices for mobile app development should follow to create a successful app. First and foremost, it is important to have a clear vision for the app before beginning development. It is also important to develop an MVP (minimum viable product) version of the app first so that potential users can test it out and provide feedback. Additionally, it is important to use the right technology for the app and ensure that all coding and design elements are optimized for mobile devices. Finally, it is essential to continuously update the app with new features and updates so that users have the best experience possible.
Section 5: How to Grow Your Mobile App Business?
If you're looking to grow your mobile app business, there are a few things you can do:
Make sure your app is well-designed and user-friendly.

Create engaging content that users will want to see.

Promote your app through social media and other online channels.
By following these tips, you can ensure that your mobile app business continues to grow and thrive.
TFT MTK Module
TFT MTK Module1.0 is the only MTK module that can be used to unlock the FRP or Unlock the bootloader from phones belonging to Vivo and Oppo family members. Many of these phones don't have similar software (MTK Droid Tools, MTK Engineer Mode).

Download Link:: Link 1:: Link 2:: Link 3:: Link 4:: Link 5:: Link 6