Samsung Qualcomm FRP Remove by Qfil in EDL Mode
Samsung FRP Remove Qualcomm in an edl mode flash loader file free for all users. some steps need to unlock any Qualcomm smartphone of Samsung mobile and you have easily remove FRP Lock in EDL mode in one click.  Need a phone to EDL mode find the test point on google search and connect the device to Computer.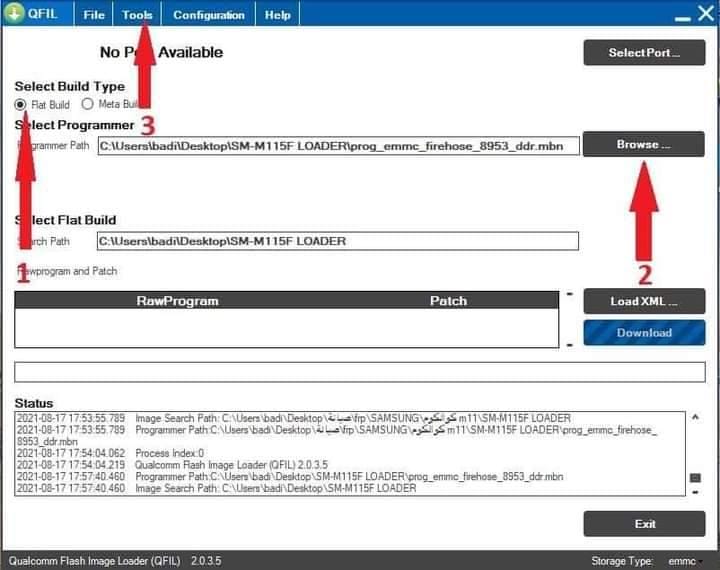 Supported Models:
Samsung remove FRP
Android 11 bypass google account
SM-A015A
SM-A015AZ
SM-A015F
SM-A015G
SM-A015M
SM-A015T
SM-A015T1
SM-A015U
SM-A015U1
SM-A015V
SM-A025F
SM-A025G
SM-A025H
SM-A115F
SM-A115M
SM-A115U1
How To Use?
Inauguration of Qualcomm EDL Mode (Find it here:: Link 1:: Link 2:: Link 3)
After opening the program 0-connecting the phone with the computer in EDL mode via Test Point
1-we know on flat build
2-We put the right loader for the phone to delete FRP
Download the loader collection from the below link
3-From the Tools box, we choose partition manager
4-Then we click on a persistent file with a right-hand mouse then click on partition manager data
Show list we choose Erase
5-In the same way we delete the config file
Congratulations on deleting the account
Samsung FRP Remove Qualcomm Smartphone With Qfil Tool
Okay, I can see that this video has already shown some results, I am going to see that this application has truly helped this person by giving him a great alternative while using their device
This story was by SlashGear, and I decided to keep it short and simple so that I can say that there is no hesitation from the user regarding Android device, a good removal of a battery is a very common problem for most people.
After installing Qualcomm Qfil App, the platform allows me to take a picture of the battery that is which goes into a drawer for later use. Also, I can see the application interface of this smartphone and the application itself is very easy to navigate and flow with the negative and positive indicators.
Thus if I have not seen the standard mobile apps yet the regular access to your email is comparable or a bit better than my standard smartphones' experience as such, and considering I do not need a better user experience. I think it is good I think I will try to continue with it.
I will see to it that all future usage of my smartphone do not affect my battery, and I will continue to seek of improvement to create a great app. A better Apple app?
On the next page, I will give a process of taking the batteries out of my electronic device until it is no longer powerful at all.
README:
Compatibility: Windows XP, Windows Vista, Windows 7, Windows 8, Windows 8.1, and Windows 10 (32 bit and 64 bit) runs completely.
Take a backup: If you are ready to try the above tool, please back up your personal data from your Android smartphone or tablet. As a firmware or recovery shines can be a brick device.
Credits: Samsung FRP is eliminated and distributed by the developer. Therefore, full credit goes on to the developer to share the tool for free.