Qualcomm loader Snapdragon 720G Free Tool With Password
Oppo loader Snapdragon 720G Universal Tool 1.4 by GSM Sutleng supported Reno 4, Reno 5, Reno 6 the tool helps you to remove User lock and FRP in EDL mode. you no need to any box dongle or JTAG is a simple free tool with works on the latest firehose file. the tool is completely free and with a password which I give you below in the download section. the tool is working on any windows os which running on windows 7 and up version os.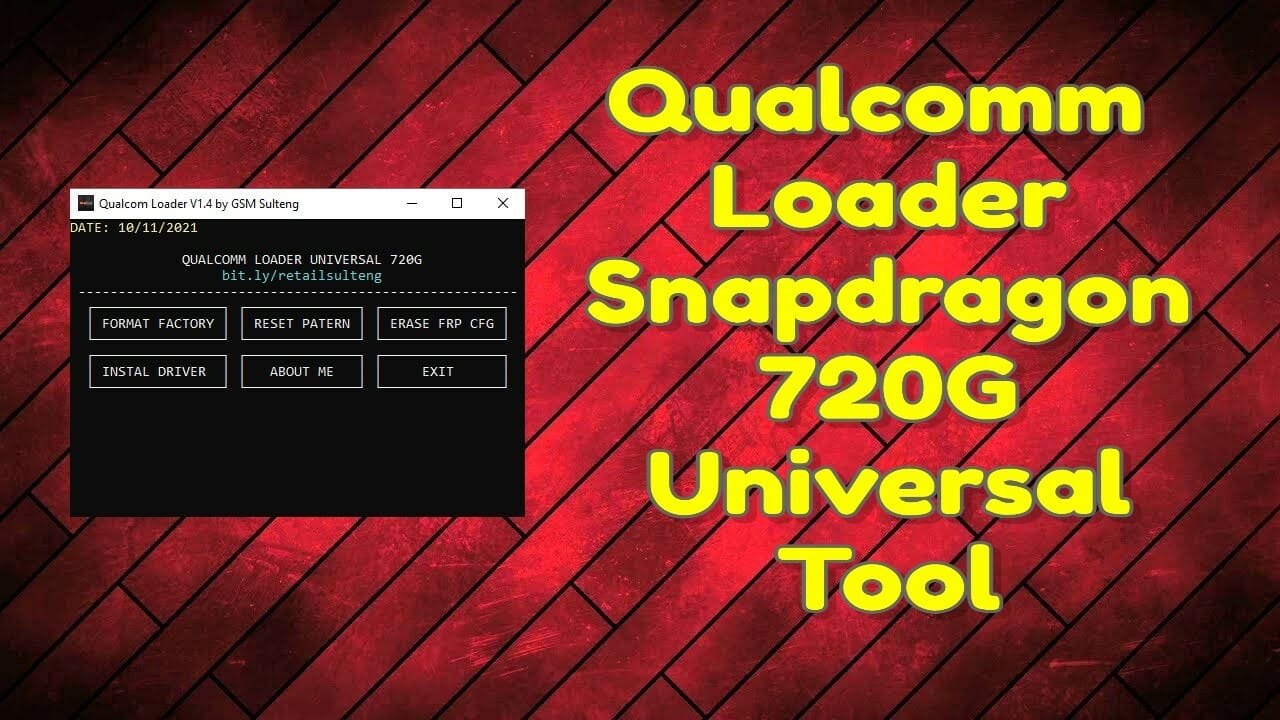 Like, Follow, Subscribe me on :
All Mobile Firmware:: Link
Features Qualcomm loader Snapdragon 720G Universal Tool:
Support:
FORMAT. (ERASE FRP. REMOVE DEMO)
OPPO RENO 4
OPPO RENO 5
OPPO RENO 6
OPPO A77
REALME 6 PRO
REALME 7 PRO
REALME 8 PRO
FORMAT ONLY (VIVO. XIAOMI. SAMSUNG)
VIVO V20
VIVO V21e
VIVO Q
XIAOMI NOTE 9 PRO
SAMSUNG A77
SAMSUNG A74
How To Use?
First, you need to download the tool from the below link
Install the Qualcomm driver
Next, open the tool, and on your display, it was needed to password enter inbox "dian"
Next, you need to connect your device in an EDL mode

For you can connect in EDL with Press the VOL +, VOL –  Button and connect to pc

Now you have to click on the model number and wait for a reset phone.

For FRP bypass you can also use an Emergency dial code method

you can open the emergency dial pad and enter it "*813#" and call button you have automatic redirect the home menu of your phone.

If this not working then the same process follows like 6 number
Qualcomm – Loader Snapdragon 720G Universal Tool set comes with 17 pcs of loading pin s and 18 pcs of the adapter. With the loaders, you can easily connect to Qualcomm, Samsung, and other mobile phones accessories such as display touch screen, wireless charging station, and projector display. It is a must-have for repairing and upgrading your phone. The Qualcomm® Loader Snapdragon® 720G is a universal flash loader used to update the system of mobile devices via Fastboot in Recovery Mode.
Easily root and convert your Qualcomm-based smartphone or tablet with the Snapdragon 720G Universal Tool. This universal tool is compatible with a wide range of smartphones and tablets, which allows you to quickly and easily perform functions such as rooting, converting to a custom ROM, and more. Simply download the Qualcomm Device Installer and follow the instructions in order to upgrade your device with Qualcomm Device Software.
Loader Qualcomm GPU Platform is a portable device that emulates the popular action-adventure video game system, Xbox One. This device is designed to allow hardware development on the Android platform through the emulation of Microsoft's latest video game console. Also, Loader Snapdragon 720G is used for running Windows 10 or converting physical disks into virtual drives. Qualcomm – Loader Snapdragon loader to initiate the Windows operating system.
Engineered to provide a highly flexible, highly affordable platform for IoT developers, the Snapdragon 720G Universal developer kit extends the Qualcomm® IoT Development Platform with a ready-to-use system designed to support cellular connectivity in design prototypes. This easy-to-use hardware and software package helps designers rapidly create prototypes with no time or expertise required in RF development.
The Qualcomm® Loader is a small, lightweight universal tool for safe, efficient chip-on-board applications with the most up-to-date chips. Built with sturdy stainless steel components, this loader can be used to position wafers for application or removal of solder paste.
The Qualcomm® Snapdragon™ Universal Platform offers a comprehensive chipset portfolio designed to support a wide range of devices from smart speakers and wearables to Internet of Everything (IoE) nodes. For more details about the Qualcomm® Snapdragon™ 720G. The Qualcomm loader tool allows you to easily, quickly and safely transfer the loaders from your device for further use.
The Qualcomm – Loader Snapdragon 720G Universal Tool is a must-have for anyone who works on smartphones, tablets or other mobile devices. This tool kit includes 12 sockets, 3 extension bars and a 90 degree angle adapter, all of which fit neatly into the fabric case that comes with the kit. It also includes a hex driver, 4 screwdrivers and two extensions that quickly screw into the hex driver for easy use. The kit's durable case keeps everything organized and protected when you're not using it, and even has a spot for a small flathead screwdriver. Use the Qualcomm – Loader Snapdragon 720G Universal Tool
Qualcomm-Loader Snapdragon 720G Universal Tool is designed to flash Qualcomm Bootloader. You can flash Xloader Images, Qualcomm Fastboot Images, Loader Images, RFS Files, and others. The operation is very easy.
The Snapdragon 720g Universal tool is the flagship product in our Snapdragon Tool Series. This loader has Qualcomm's advanced multiphone firmware, allowing it to work with nearly any phone.
The Qualcomm Snapdragon 720G Universal Tool is the industry's first true universal development platform for use in device lab, IoT lab and customer care. The Qualcomm Snapdragon 720G Universal Tool is uniquely designed to help developers test and validate applications on multiple versions of the platform, supporting a wide range of hardware that can leverage 3GPP or proprietary software solutions in either a lab environment or in the field.
Qualcomm – Loader Snapdragon 720G Universal Tool is simple to use. It's not just a gadget for geeks, it's even more convenient than your regular USB Loader. Qualcomm – Loader Snapdragon 720G Universal Tool pack stylish appearance, the best experience of a real gift.
Download Link:: Link