MTK Auth Bypass Tool V27 | Free Tool New Update…
MTK Auth Bypass Tool V27 is a free windows program that helps to bypass DAA & SLA Auth (Secure Boot protection) from any MediaTek MTK powered phone quite easily.
Nowadays, every Android smartphone comes with USB protection to avoid third-party flashing and misuse of the device. You won't be able to flash or unlock your phone without any authorized tool or permission. So, in this scenario, the MediaTek MTK Secure Boot Disable Tool can help you to bypass the auth security from your phone.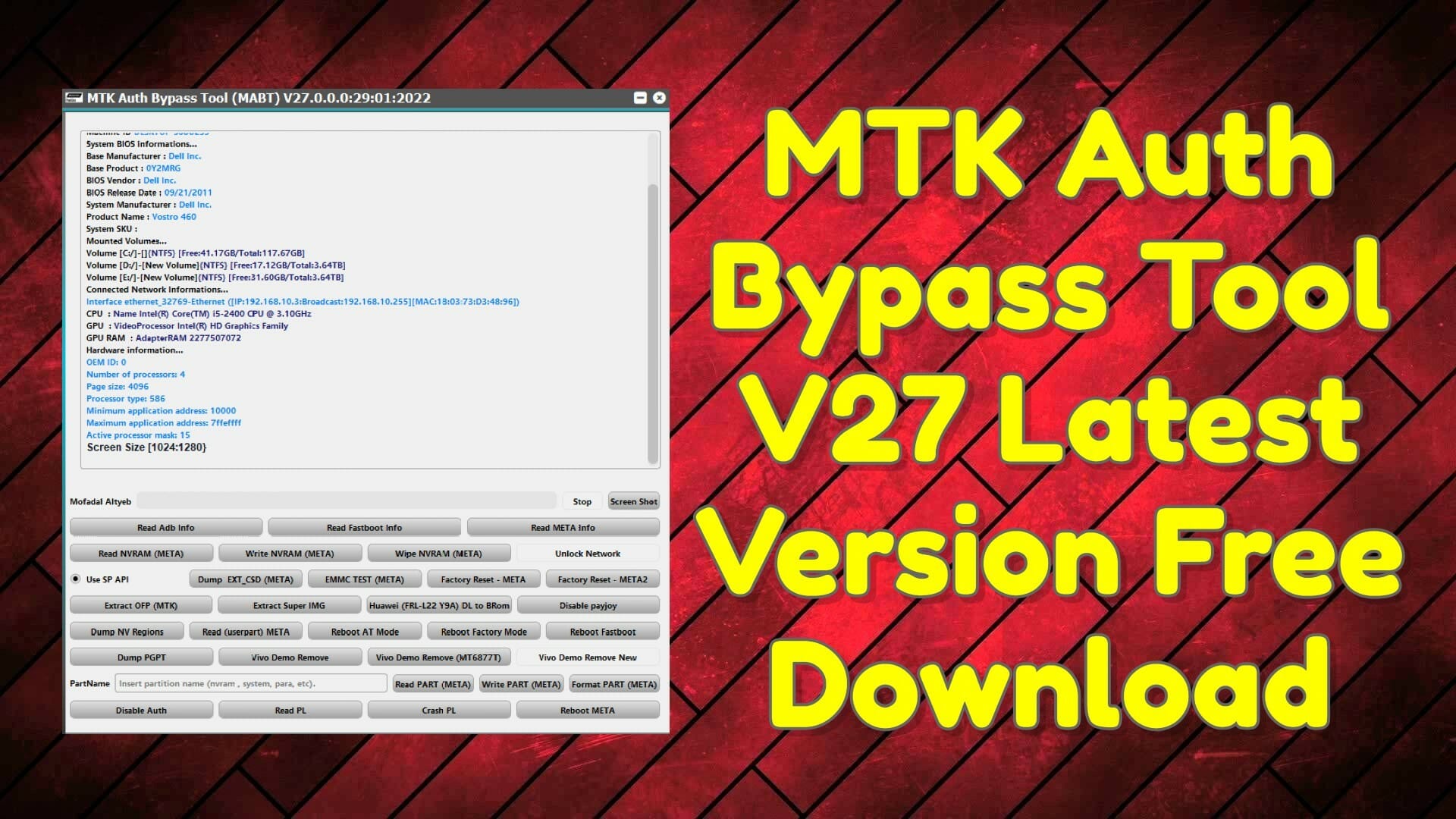 MTK Auth Bypass Tool v27 helps to detect any Oppo, Vivo, Tecno, Xiaomi Redmi, Infinix, MTK based smartphones into the SP flash tool, Miracle Box, UMT, MRT, MCT, CM2 Dongle for Flashing, Unlocking, and Repairing the phone. It comes with an auto-installer package and supports Windows 11, Windows 10, Windows 8, Windows 8.1, Windows 7, Windows XP (32 & 64bit) architecture.
Supported Cpu's (MediaTek):
MT6572
MT6580
MT6582
MT6592
MT6595
MT6735
MT6737
MT6739
MT6753
MT6755
MT6750
MT6750M
MT6750T
MT6750S
MT6757
MT6761
MT6762
MT3369
MT8766B
MT6763
MT6765
MT6768
MT6771
MT6779
MT6785
MT6795
MT6797
MT8127
MT8163
MT8516
MT8173
MT8695
MT6873
MT6799
MT8590
MT6781
MT6768
MT6883
MT6885
MT6889
MT6833
MT6853
MT6853V
MT6873
MT6891Z
MT6893
MT8765WB
MT8385
MT8183
MT8666.
Changelog::
MTK Auth Bypass Tool V27 :
– added Dump PGPT via META mode.
– support eMMC – UFS – Combo Flash.
– PGPT can be used for Re-partitioning(helpful for JTAG guys)
– as we know the new MTK chipsets are patched against Brom auth bypass exploit,
(MT6877T, MT6893 New REV), means now you can read the device partition table via META mode.
– so it can be used for Density 920 5G as well.
– and can be used to create an empty scatter file.
Note: GPT system is being in mtk devices since they released the MT6580 chipset back in 2016, so all chipsets before MT6580, MT6592 will not be supported because it uses different file system style (ordinary MBR).
MTK Auth Bypass Tool V27 – MTK Secure Boot Disable Tool (Auth Bypass)
How To Use?
Download & Unzip the MediaTek Secure Boot Disable Tool to your computer.
Run MTKAuthBypassToolV27.exe
Install LibUSB Win32 driver to your computer (Skip this if already completed)
Now Power Off your phone
Press Volume Up And Power and Insert a USB cable
Click Disable Secure Boot
If the Disable Secure Boot process does not work, use the Force BROM function.
That's it.
It will bypass the Auth Security from your phone.
Now you can use any unlock tool like SP Flash Tool, Miracle Box, UMT, CM2 to unlock your phone.
What is MTK Auth Bypass Tool all about?
This is a small tool that allows you to bypass MTK authentication (or the " Authenticate With MTS" method, if you want to be more specific).
If you are having problems with your app and want to bypass MTK authentications, or if you just want to see if it works for other apps, this is the tool for you.
MTK Auth Bypass Tool V27 – MTK Secure Boot Disable Tool (Auth Bypass)
Where to download the tool?
The MTK Auth Bypass Tool is an automation tool for bypassing mtk auth for use with PostgreSQL. This tool is used to bypass mtk auth for all of your PostgreSQL databases.
The tool is open source and has been tested against PostgreSQL versions 9.3, 9.4 and 9.5
It does not support the latest version of PostgreSQL (9.6) at this time
The authors have released their own package that adds a few more features to the tool, but it suffers from many of the same problems as the original tool so I would not recommend using it as a replacement.
How you can use the tool?
This tool is a simple one-liner that allows you to bypass the authentication process for most popular MTK devices. You can use it for both Android and iOS devices.
There are a few other options out there, but this is a quick and dirty one. It will work with almost every MTK device and it is highly configurable.
MTK Auth Bypass Tool V27 – MTK Secure Boot Disable Tool (Auth Bypass)
It's a tool to bypass mtk auth. It's been dead for a while, but it could be useful in some situations, such as if you are using a non-standard IPSec or another method of authenticating with your MTK card.
MTK Authentication is a technology that is used to bypass the authentication process of popular mobile devices and hardware. This tool aids in bypassing the access control for the following devices:
iOS Devices – iPhone, iPod Touch, iPad, iPad Mini
Android Devices – Nexus 4, 5, 6
Blackberry Devices – Z10, Q10, Priv
Windows Phone Devices – Lumia 520/520XL, 730/735/790/790XL
iPhone 5s and iPhone 5c (iOS 8.3) and iPhone SE (iOS 8.0) have been supported in this tool as well. Because of the iOS update to iOS 9, it's no longer safe to use this tool on these devices (it will fail). You can use this tool on any device that supports authentication with MTP (MTK Auth) protocol only.
In a previous post, I have written about how to bypass the authentication system in Android devices. This was achieved by taking advantage of some security vulnerabilities found in the official SDK (which is how we got access to it in the first place).
However, today's post is not about bypassing the Android Auth system. It is about using this tool to automatically save your credentials before you install an app on your Android device.
In case you are unfamiliar with it, here is how it works:
First, you download the mtk_auth_bypass tool v27 latest version free download from the link provided below. Then open the mtk_auth_bypass tool v27 the latest version free download and click on the "Run" button which will start downloading and extracting (if it does not automatically do so). Once done, the mtk_auth_bypass tool v27 latest version free download will be ready for use.
After installation, go to settings->security->change android auth type and change "allow app installation" option to "never". Then restart your device and you are ready to go!
MTK Auth Bypass Tool V27 – MTK Secure Boot Disable Tool (Auth Bypass)
MTK Auth Bypass Tool V27 is a tool that will let you bypass MTK Authentication.
MTK is the method used to authenticate with a server. In order to bypass MTK authentication, you need to disable MTK and re-enable it in your server.
MTK Auth Bypass Tool V27 is a program designed for Windows that allows you to bypass MTK authentication (for example, by using self-signed certificates). It is available for free via this page, although I cannot guarantee the security of the download or site being used. For more information on how to use this tool against MTK authentication, please refer to our manual. If you have any questions about using this tool, feel free to contact us at [email protected]. Thank you!