Developer Team Tool 3.6 Latest Download
Developer Team Tool is a Free and simple Windows tool that allows users to bypass iCloud, hello screen, fix broken baseband, Untethered iCloud Bypass MEID/GSM on any iPhones, and iPad devices. If your iPhone is stuck at iCloud lock then It's a really beneficial tool to unlock the iCloud lock in the iPhone and iPad. So, If you would like to download FDeveloper Team Tool V3.6 latest version, then check the below article and click on the download button.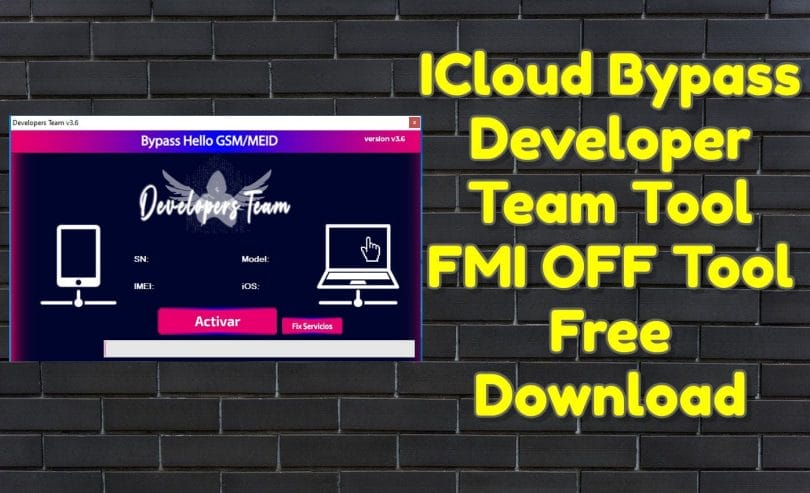 This procedure of using Developer Team Tool V3.6 is quite simple, all you have to do is boot your windows pc into the Checkra1n or Unc0ver, then jailbreak your IOS device and run the tool, then select and use the option you want to use, that's it.
Make sure: You have to Jailbreak your iPhone first with MAC, Hackintosh, Ra1nUSB iOS 12.3-13.7-14.7 to unlock passcode, disabled iPhones, IOS activation, Hello screen fix. If you have Windows PC then use checkra1n.
The iPhone 6 to iPhone 11 Pro every single IOS device is easily supported on the tool and it is very easy to use. You'll be faced iCloud lock if you tempered the system without knowing the iCloud ID password, if you faced the problem then Developer Team Tool Just as I locate Apple users requesting efficient, altered, and useable methods in the many forums which assist us to bypass the lock, after viewing plenty of third-party recommendations and iCloud bypass tools, here I share one of the best tools here.
iCloud is a very good feature no doubt, but many people also facing the ICloud lock problem so that's why here I sharing with you the latest working ICloud tool that will work on any IOS phone and tabs, to work with this tool you have to follow proper methods to bypass iCloud lock easily.
Features:
Untethered  iCloud Bypass with full Signal
Activate AppStore & Notifications,
Carrier Unlock
Supported Platform: Windows 10, Windows 8, Windows 8.1, Windows 7.
Jailbreak your iDevice Before Bypassing.
Gsm bypass with SIM & signal,
MDM bypass,
Fix broken baseband.
Bypass GSM with 1 click
Remove activation lock support all models.
MEID no signal-free with all functions.
Backup Data
Free  MEID Bypass
FREE Al Service
IOS14.7 on 8 and 8 plus and X
ios 14.6 on 7 and 7 plus
Full Working Facetime and iMessage
Battery Drain And device have been hot Fixed
disabled updates
backing accounts fix
ICCID Restore
iPhone 5- 5C Manual Unlocking
Latest iOS 15 (Beta3) Supported
How To Use?
Prepare For Open Menu FMI OFF [No need Open Fiddler]
1. Open WiFi settings -> ⓘ -> Set Proxy -> Manual -> Enter Server:157.90.153.163 => Port: 8866
2. Visit Safari: 157.90.153.163:8866
3. Download Profile/Certificate
4. Go to Setting -> General -> Profile -> Click Certificate -> Install Profiles
5. Go to Setting -> General -> About -> Certificate Trust Setting -> Enable/Turn On Certificate DO_NOT_TRUST_FiddlerRoot
6. Open iCloud Storage, wait till storage Load. You will get code to unlock show on iCloud storage
README:
Compatibility: Windows XP, Windows Vista, Windows 7, Windows 8, Windows 8.1, and Windows 10 (32 bit and 64 bit) runs completely.
Take a backup: If you are ready to try the above tool, please back up your personal data from your Android smartphone or tablet. As a firmware or recovery shines can be a brick device.
Credit: Developer Team Tool is created and distributed by the V3.6 developer. Therefore, full credit goes on to developer to share the tool for free.