AlsaBahi Passcode & Open Menu Tool 2.0 Free For All Users
AlsaBahi Passcode & Open Menu Tool is a small tool for Windows computers. it is allowed users to remove iCloud lock from iPhone and iPad devices in the open menu on jailbreak devices. also, you can remove the passcode lock device with help of this tool. some features you need to pay some small amount for use.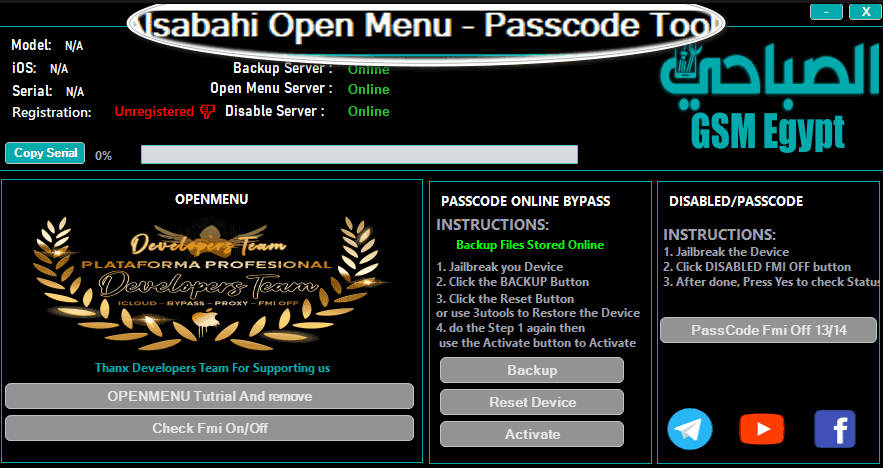 Features:
– Open menu Tutorial and remove
– Check FMI on/off
– Backup
– Reset Device
– Activate
Instruction
Backup Files Stored Online
Jailbreak your device
Click the Backup Button
Click The Reset Button or use 3utools to Restore the Device
Do Step 1 again then use the activate button to activate
– Passcode FMI OFF 13/14
Instruction:-
Jailbreak The Device
Click Disable FMI Off Button
After Done, Press yes to check Status
Changelog AlsaBahi Passcode & Open Menu Tool V2.0
NEW V. 2.0 more stable
Apple new patches included
       with new support
All Bugs Fixed
Backup and Restore Online Now lifetime server
Open menu New patch fixed now removed by email
Easy Methods include No need fiddler
Fmi Checker Inside Tool auto
 Fixed Fmi Off Disable devices
 Thnx Developers team For Alwyaes Supporting us
Tools: WINDOWS
New patch installed  every method
READ:
Interaction: The tool works perfectly on Windows XP, Windows Vista, Windows 7, Windows 8, Windows 8.1, and Windows 10 (32 bit and 64 bit).
Take Backup: If you are willing to try the above tool, please download a backup of your data from your Android Smartphone or Tablet. As light as any Firmware or recovery can build bricks.
Credits: AlsaBahi Passcode & Open Menu Tool was developed and distributed by the developer. Therefore, full credits go to the developer by sharing the tool for free.
Download Link::Link 0:: Link 1:: Link 2:: Link 3:: Link 4