FREE – XIAOMI MICLOUD & FRP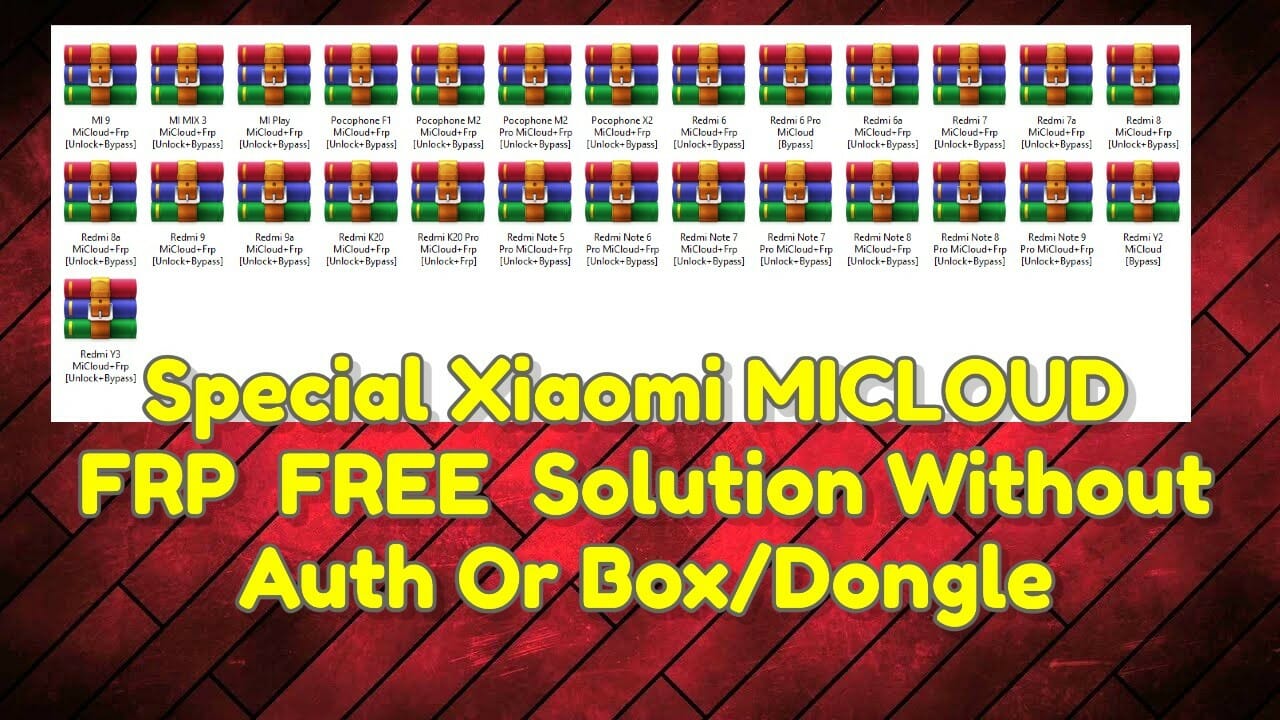 Like, Follow, Subscribe me on :
All Mobile Firmware:: Link
What is FRP Lock Xiaomi?
If you have any problems with Unlock FRP Xiaomi, here is a very helpful guide that can help you remove the Gmail account From your Xiaomi to make it easier for you.
Google added a security feature called the Factory Reset Protection (FRP) feature on all Android phones, this feature is very important in case your Xiaomi is lost or stolen, FRP prevents any person from accessing your Xiaomi data, The feature requires entering your Gmail account to confirming that you are the owner, but it can also be a real inconvenience if you forget the Google account password and leave people in a situation where they need to bypass Google account after formatting so that they can use the Xiaomi phone.
The FRP will be activated automatically on your Xiaomi as soon as you add your Google account to your Xiaomi phone. In case you want to disable it, all you need is to delete your account.
What is MiCloud?
Mi Cloud is a great way to sync your data across multiple devices and have your important information backed up in the cloud. It allows you to access photos, contacts, call logs, messages, and more from anywhere in the world. When you sign up for My Cloud, you get 5 GB of free storage.
The personal data of Mi Cloud users are strictly encrypted before being stored on the Mi Cloud server. Even if the developer or maintainer gets the disk directly, they can't decrypt the data, so there is no need to worry about the loss of user personal data.
Sometimes users forget or lost here device then you need to write some files that help to remove the mi account lock from your Xiaomi device.
Special Xiaomi MICLOUD & FRP ( FREE ) Solution Without Auth Or Box/Dongle. Xiaomi Redmi Note 4 comes with pre-installed anti-reversing firmware! This can't be flashed and works as a system lock. If you want to flash the MKV or OTA, you need to free the locked phone with a special tool I am uploading. Just click the top button below to start, it'll take less than 1 minute.
Special Xiaomi MICLOUD & FRP ( FREE ) Solution Without Auth Or Box/Dongle Have you ever forgot your Xiaomi account password? B: Do you want to clear the FRP (Factory Reset Protection) of your Xiaomi phone with software? If your answer is YES, this tool will make you happy. This tool has two features: 1. It can remove the MICLOUD protection for any Xiaomi phone, it means that you can connect with any computer without authorization again. After using this tool, you still need to install the MiFlash Tool on PC to flash firmware later. But now this requirement is invalid. 2. It can clear the FRP-locked screen on your phone. If your answer is YES, just go ahead and make full use of this wonderful tool.
Do you want to remove FRP and Free Your Xiaomi Smartphones? If yes then you are in right place. Here I am going to provide a special solution that will help you to remove Google account safety verification and also remove/reset all other Google account-related things from your header. So let's start the process.
mi account unlock tool. Xiaomi devices lock your account with an account-bound tool and you can't download your data after factory reset. This unofficial and free tool will help to unlock mi account on your devices with EDL mode, no backup is required. Unlock your account using unlock tool code of your phone to oem.xiaomi.com. Everyone can use it without any special requirements and software needed.
The Password Unlock Tool is a software or hardware device that enables you to recover or reset the lost or forgotten password of an account. Normally, there are two ways to lock your important accounts like email, bank account, or any website. The first one is by login password and the second one is by answering the security questions. You can unlock your accounts by entering the answer to your security question if you know it. Otherwise, you could ask your friends who might know it but sometimes they don't want it just because they didn't want to get involved in your private issues.
Account Unlock Tool is a windows application that works without VPN and uses proxies. This software can be used to unlock the accounts that have been locked because of suspicious activities in the account (guessing of password, etc), It can only be used to unblock your own account, not for other users. It's free and it's easy to use. Account unlock tool for free. free account unlock generator cheats tool Unlock Accounts, remove security questions and reset your passwords.
Account Lock Tool is a powerful, an easy-to-use software application that allows you to protect your computer, your profiles, and your personal accounts. Account Lock Tool will help you password protect your computer, prevent others from accessing your private profiles and accounts. This application is intended to be used by users with basic or intermediate skills in using computers who want to take control of their computer security.
Download Link:: Link