Mysterious-Box v 4.0 Free For All Users – No need to activate for use (Advance Features Need Activate)
The Mysterious Box 4.0 Unlock device is a useful tool without any box to repair your Android device, you can easily download the mysterious box unlock tool to help you unlock the MI account, MI account Remove, add language, add language, remove Samsung account, remove lock account; Fix the baseband, correct the IMEI, in the following topics, install Google service and many features, we will explain that the way to install mysterious box is that all Android devices But use the tool to open the Google Account.
In this update, the developer has been updated with many new functions but it is not free you may need to activate the developer, but includes free functions that you easily use and unlock, flash Can easily use the phone without repair.
Like, Follow,Subscribe me on :
All Mobile Firmware :: Link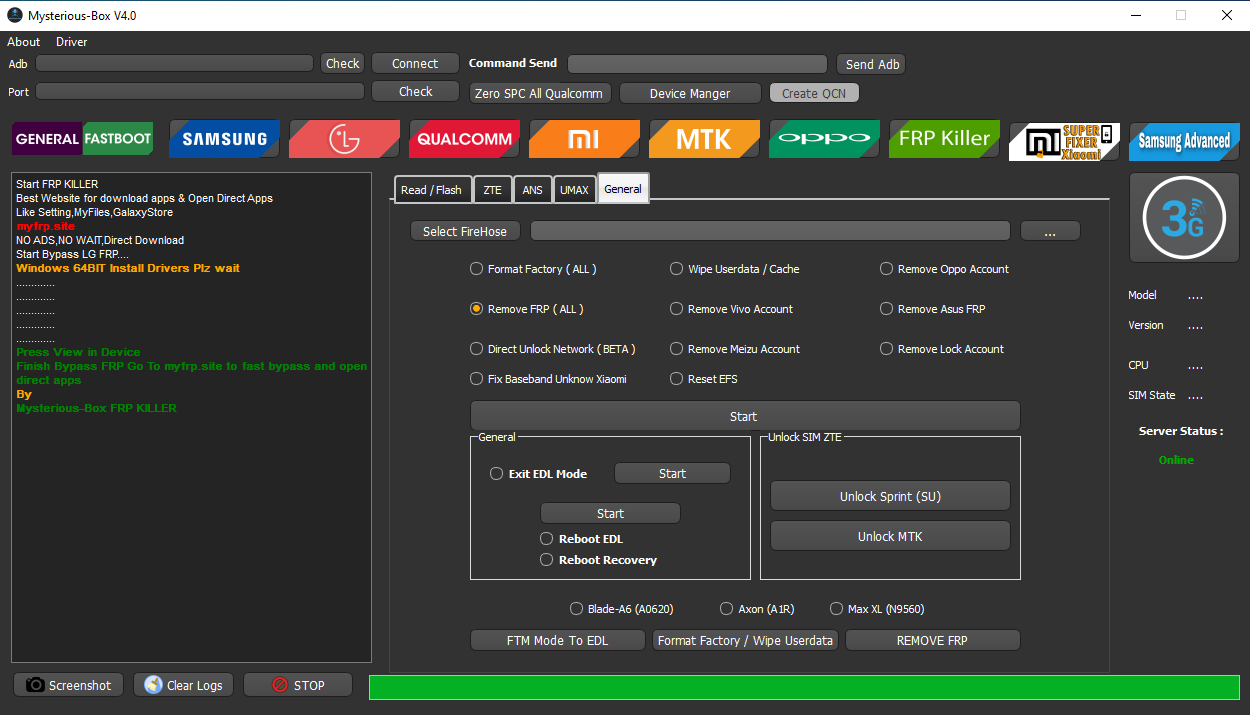 Features:
+ Format Oppo & Realme  🔥
A1K CPH1923
A83 CPH1827
F15 CPH2001
F11 Pro CPH1969
F11 Pro CPH1987
F9 Pro CPH1823
F9 Pro CPH1825
F9 CPH1881
F9 CPH1825
F7 CPH1819
F7 Youth CPH1859
F5 CPH1723
R15 CPH1835
R15 CPH1835
A5S CPH1909
A5S CPH1912
A83 CPH1729
A9 CPH1837
A9 CPH1938
Realme 1 CPH1861
Realme C2 RMX1941
Realme 3 RMX1821
Realme C11 RMX2185
RENO 2F CPH1989
* Support Translation Device For Version :
1- Android 5.x.x
2- Android 6.x.x
3- Android 7.x.x
4- Android 8.x.x
5- Android 9.x.x
6- Android 10.x.x
6- Android 11.x.x
* Support Translation Device For languages :
Amharic – Arabic – Azeri – Bulgarian – Bengali – Bosnian – atalan – Czech – Danish – German – Greek – English – Spanish – Estonian – Basque – Farsi – Persian – Finnish
Filipino – French – Galician – Gujarati – Hindi – Croatian – Hungarian – Armenian – Indonesian – Icelandic – Italiano – Japanese – Georgian – Kazakh – Khmer -Kannada
Korean – Kurdish – Lithuanian – Latvian – FYRO Macedonia – Malayalam – Marathi – Malay – Burmese – Norwegian – Nepali – Dutch – Punjabi – Polish – Portuguese – Romanian – Russian – Sinhala – Slovak – Slovenian – Sanskrit – Swedish – Swahili – Tamil – Telugu – Thai – Turkish – Ukrainian – Uzbek – Vietnamese – Chinese
Changelog:
Today will install Mysterious-Box V4.0.0
What's New in this version:-
1- Flash MTK Xiaomi Device
2- Remove FRP For Xiaomi in ( FASTBOOT )
3- Remove Mi Account ( ADB )
 Support MIUI 10, 11, 12
 No Need Flash Firmware Or
 Patch Only ADB
 * Can Add New Account
 * Can Format Device No Relock
 * Use SIM AND WIFI
How Setup Tool For FLASH MTK:-
First, install this program
Then type this command in cmd
pip install pyusb pyserial json5
enjoy this Update 🙂
How To Use?
First, you need to download the tool
Extract setup file or run directly from WinRAR
Next, install the setup on your computer
Next, you can restart your pc
Now open the tool again as admin mode
The first time he was taking time for open
Done!!!
README:
Take a backup: If you are ready to try the above tool, please back up your personal data from your Android smartphone or tablet. As a firmware or recovery shines can be a brick device.
Credits: Mysterious box is created and distributed by the V4.0 manufacturer. Therefore, full credit goes on to the developer to share the tool for free.
Download Link:: Link 1:: Link 2:: Link 3