MTK Auth Bypass Tool V26 New Update | Added New Models supported
MTK Auth Bypass Tool V26 is a free windows program that helps to bypass DAA & SLA Auth (Secure Boot protection) from any MediaTek MTK powered phone quite easily.
Nowadays, every Android smartphone comes with USB protection to avoid third-party flashing and misuse of the device. You won't be able to flash or unlock your phone without any authorized tool or permission. So, in this scenario, the MediaTek MTK Secure Boot Disable Tool can help you to bypass the auth security from your phone.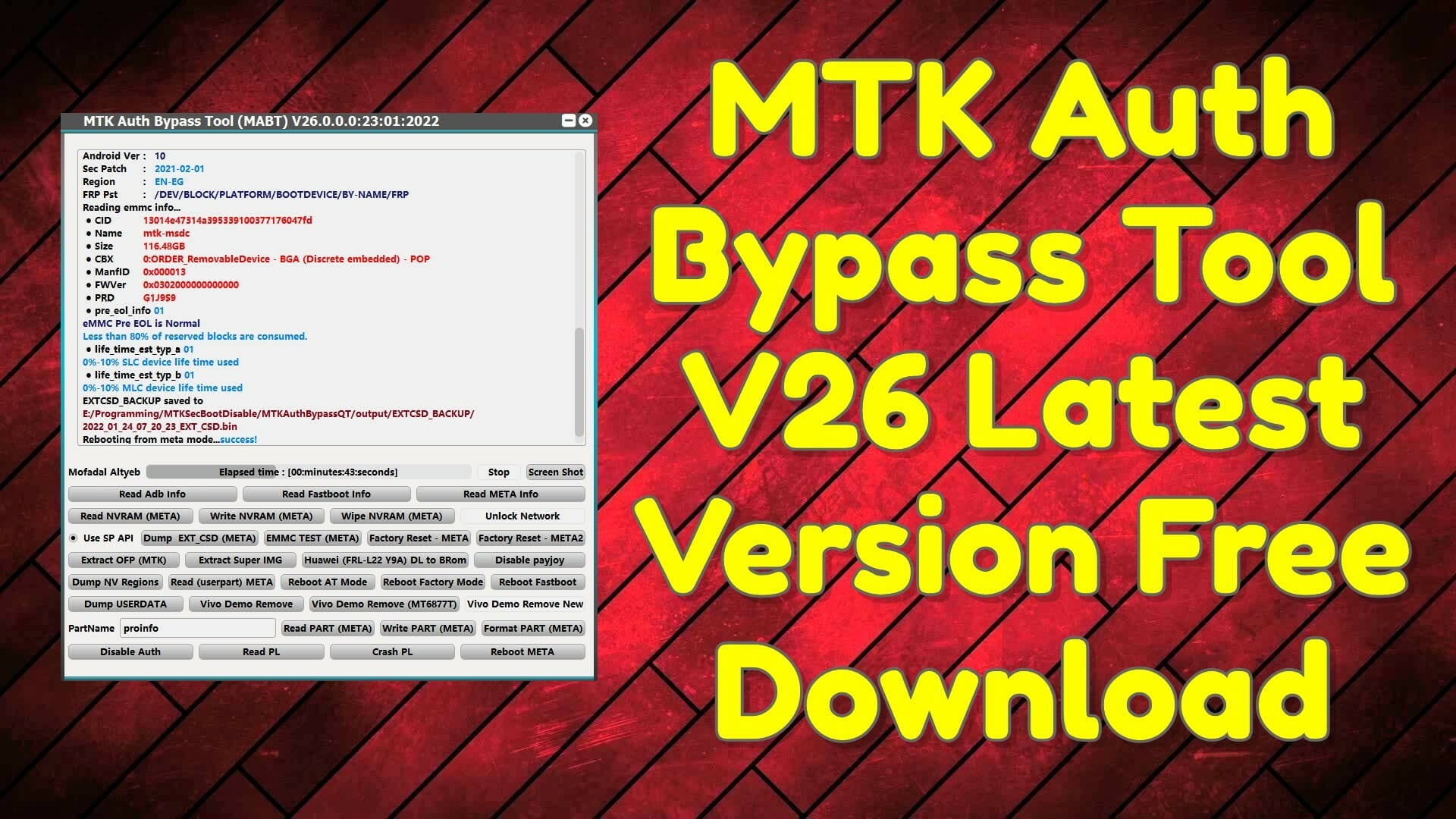 Like, Follow, Subscribe me on :
All Mobile Firmware:: Link
MTK Auth Bypass Tool v26 helps to detect any Oppo, Vivo, Tecno, Xiaomi Redmi, Infinix, MTK based smartphones into the SP flash tool, Miracle Box, UMT, MRT, MCT, CM2 Dongle for Flashing, Unlocking, and Repairing the phone. It comes with an auto-installer package and supports Windows 11, Windows 10, Windows 8, Windows 8.1, Windows 7, Windows XP (32 & 64bit) architecture.
Supported Cpu's (MediaTek):
MT6572
MT6580
MT6582
MT6592
MT6595
MT6735
MT6737
MT6739
MT6753
MT6755
MT6750
MT6750M
MT6750T
MT6750S
MT6757
MT6761
MT6762
MT3369
MT8766B
MT6763
MT6765
MT6768
MT6771
MT6779
MT6785
MT6795
MT6797
MT8127
MT8163
MT8516
MT8173
MT8695
MT6873
MT6799
MT8590
MT6781
MT6768
MT6883
MT6885
MT6889
MT6833
MT6853
MT6853V
MT6873
MT6891Z
MT6893
MT8765WB
MT8385
MT8183
MT8666.
Changelog !!!
MTK Auth Bypass Tool V26:
– added eMMC Test (Health check) via META Mode.
– added (Read, Write, Format) partitions via META Mode.
– fixed Dump eMMC EXT_CSD via META Mode.
 – several fixes, including reboot option for (DAA, SBC) only secure targets.
As mentioned in previous posts, some vendors did not enable or blocked the META Driver on their kernels, for example, Huawei and Samsung + (OPPO 2021 security updates).
* For other vendors it should work fine, nor model or chipset specified, seems to be a generic thing.
some of the tested brands (Vivo, Xiaomi, Alcatel, LG, Tecno, Infinix, Huawei devices with Android 6 and lower, and more).
– Thanks to the MetaCore library.
* Don't use long directories (paths).
this will be the last version of this software may be will share a copy of the source code soon.
all of the tool features were explained in the previous posts and I see a lot of youtube videos available to explain the tool options and how to use it, search for MTK Auth Bypass Tool.
the mtk exploit bypasses payloads c
I've never been tired ​of sharing knowledge and helping people who want to learn more about this field.
thanks for the support.
How To Use?
Download & Unzip the MediaTek Secure Boot Disable Tool to your computer.
Run MTKAuthBypassToolV26.exe
Install LibUSB Win32 driver to your computer (Skip this if already completed)
Now Power Off your phone
Press Volume Up And Power and Insert a USB cable
Click Disable Secure Boot
If the Disable Secure Boot process does not work, use the Force BROM function.
That's it.
It will bypass the Auth Security from your phone.
Now you can use any unlock tool like SP Flash Tool, Miracle Box, UMT, CM2 to unlock your phone.
MTK Auth Bypass Tool V26 Latest Version Free Download
For years now I have been saying that there are two ways to find out the password hash. One is via configuring the OTP token in your app's settings, which is a tedious and unrewarding way to do it. The other is using the MTK auth bypass tool, which is a bit more convenient and can be done quickly without having to code an application.
MTK Auth Bypass Tool V26 Latest Version Free Download
MTK Auth Bypass Tool v26 is free software that allows you to use any MTK (Mobile Telephony) device to bypass the security features of some apps.
If you are using an iPhone or iPad, there is probably a limit on how many apps you can install. This article will show you how to bypass these limits and install as many apps as you want.
The MTK Auth Bypass Tool is the most effective way to bypass restrictions on app installs on iOS devices. It allows you to install as many apps as you want without limitations. The tool is available for download from the SourceForge link below:
After unzipping the file and running the installer, it will create a folder called mtkauth by default in your desktop, so if this process fails, browse to this
Now, try installing a few apps again and make sure they work (you can also try different versions of each app). You should be able to install any application without restrictions anymore! Give it a test drive by installing WhatsApp only or Install Chrome only (if it's not installed already), if it complains about some restrictions then change them back or reinstall WhatsApp or Chrome, adjust its settings on iCloud etc., if all goes well then disconnect your phone from Wi-Fi and try connecting it again!