ST SamFRP Samsung FRP Tool Free Download
The ST SamFRP Tool is a small application that is designed for Windows computers. It lets users bypass the FRP locks on Samsung smartphones by a single click. The tool works on Windows 7, 10 and 11-64 bit and is fully supported. It is compatible with all Samsung phones that have Android 9-12 versions.
Like, Follow, Subscribe me on :
All Mobile Firmware:: Link
GSM ATOZ TOOL2
What is Samsung FRP Tool do?
We have provided the most recent and best Samsung FRP Bypass Tool which can unlock every Samsung Qualcomm, SPD, Exynos, MTK powered Galaxy Android phone in just one click. It's free.

Then, download the top Samsung Unlock Tool from below and follow the on-screen directions to use it quickly.

Be aware that you first need download your Samsung USB driver to unlock FRP with your PC.
Download Samsung FRP Bypass Tool for PC
FRP Tools for everyone Samsung Direct Download Samsung FRP Hijacker Tool 2022 Simple Samsung FRP tool FRP bypass APK Mirror Samsung VNROM To bypass APK, D&G FRP bypass GSM FRP ADB tool Samsung FRP Helper V0.2 SamFirm Tool Muslims Odin Tool V3.0 Samsung FRP Bypass Tool V1.4 R3 tool for Samsung Samsung Qualcomm FRP Tool Samsung FRP King Tool SamFW FRP Tool Tap and Open Samsung Device Applications Search App Open the Google Search Application Launch Alliance Shield App Tap to open Samsung my Files, then open Settings Screen Lock Tap to open YouTube App.
Open Galaxy Store open Settings App S9 Launcher Open Google Hidden Settings Open Alliance Shield App Install Alliance Shield on Galaxy Store Open Samsung Galaxy Store How to Install Samsung FRP Hijacker Tool on a Windows PC Firstly, download and extract the tool onto your computer employing Winrar or 7zip. Winrar or 7zip software.
Be sure the program downloaded to install it, without causing any issue.
Get Microsoft's .Net framework for Windows then install the .Net framework before installing it on your computer.
Samsung Qualcomm FRP One Click Latest EDL Mode Program
Samsung FRP Bypass Tool can be described as a no-cost FRP remover program that can be downloaded in one click for Windows PCs. It allows users bypass FRP locks from Samsung smartphones using the EDL (Emergency Download Mode).
There is no need to worry about updates to your device's security and Android versions, or to look for any combination or FRP files, simply go to the link below and follow the steps below for downloading Samsung Qualcomm FRP One Click tool onto your PC and unlock your phone quickly.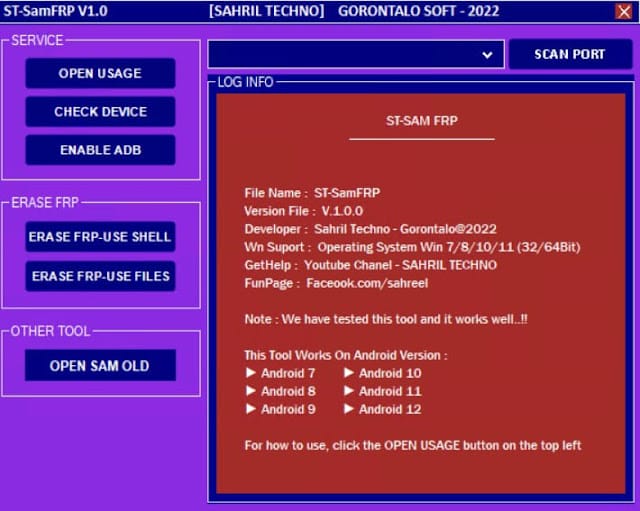 SamFW FRP Tool (Samsung Emergency Mode FRP Tool)
SamFW FRP Tool no-cost, latest One-Click ADB Reset and Enable FRP software that allows users activate ADB USB debugging mode through Samsung *#0 *# (Test Mode) and remove the FRP lock on Samsung Galaxy Android 9 10 11, 12 devices.

This is a brand new tool which provides an easy way to unblock FRP on Samsung in just a minute. If you're looking for an unpaid tool to reset FRP Lock on your Samsung phone, follow these simple steps will allow you to download the SamFW FRP Tool Version 1 on your personal computer.

Final Thoughts : Here we're getting close to concluding the piece.
Features:
Open Usage

Check Device

Enable ADB

Erase FRP Usage Shell

Erase FRP Use Files

Open SAM OLD
How To Use?
The device needs to have been placed set to Test Mode.

Choose an emergency number Then dial *#0*#
Follow these steps:
Then connect your USB cable to the device.

Click Scan Port, and make sure that the driver is recognized.

Click Check Device (Not Important)

Click Enable ADB (Important)
The Next Step Is:
FRP can be erased in two methods

Erase FRP – Use Shell (Kill Server By Google)

Erase FRP – Use Files (Erase Frp By ADB)
README:
Compatible:The tool runs perfectly on Windows XP, Windows Vista, Windows 7, Windows 8 Windows 8.1 as well as Windows 10 (32-bit and 64-bit).
Make a Backup: If you are interested in trying the tool above, you should backup the personal data on Your Android Smartphone or Tablet. Because flashing any firmware or recovery could cause the device to be damaged.
Credits The ST Sam FRP tool was developed for distribution by the creator. Therefore, all credit goes to the creator for sharing the tool at no cost.

Download LinK:: Link 1:: Link 2:: Link 3:: Link 4:: Link 5:: Link 6